NEWS
Why Matthew McConaughey Finally Popped the Question to Camila Alves!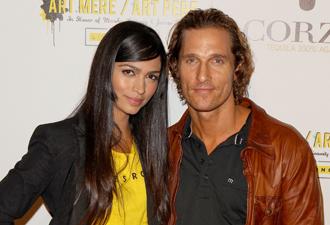 Love — plus a little pressure from the in-laws — convinced Matthew McConaughey to make his commitment to long-time girlfriend, Camila Alves, official.
"Matthew and Camila are over the moon!" says a close family friend after learning that Matthew, 42, has finally proposed to model Camila, 28 — after four years and two children together. "Camila was completely taken by surprise when he popped the question," the friend said. "She'd been warned by his friends for years that he wasn't the marrying kind, and she was fine with it."OK! GALLERY: CHANNING TATUM & MATTHEW MCCONAUGHEY ARE SEXY & SHIRTLESS ON THE SET OF 'MAGIC MIKE' In fact, Camila told OK! just last May, "We've got no plans to marry right now. We're happy and good as we are. So far, so good!" The friend told OK! that "Matthew's always thought of the institution as a bit of a joke because his parents divorced. Camila knows all this, so she was in shock when he asked her." So what changed? "Matthew is besotted with his little family and will tell anyone how Camila is the love of his life," the friend responds. "They definitely want more children, so getting married is a good move for everyone." Camila and Matthew are both so in love with their children (Levi, 3 and Vida, 2) that they can't wait to add to the brood, the friend says. "They both make great parents. She's really settled him down."OK! NEWS: MATTHEW MCCONAUGHEY IS FINALLY ENGAGED TO CAMILA ALVES! There is also the in-law factor. "Her Brazilian parents and his mother, Kay, wouldn't let up," says the friend. "Camila comes from a very traditional Catholic family and it's always been an issue for them that she had children out of wedlock. Her mother, Multo, was always worried for Camila's financial security after she put her modeling career on hold. "The couple have been getting tons of pressure to tie the knot ever since she first got pregnant with Levi at the end of 2007," the friend continued. "For Kay and Multo, well, they've been planning this wedding for years, so no one is happier about it than they are! FIND OUT HOW THE KIDS FEEL ABOUT THE MARRIAGE AND MORE IN THE NEW ISSUE OF OK! ON NEWSTANDS NOW!
Article continues below advertisement