NEWS
Will Ferrell Helps Conan Kick Things Off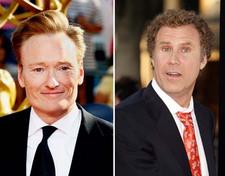 When the big handover of The Tonight Show occurs next month, with Jay Leno stepping aside for Conan O'Brien at the desk, funnyman Will Ferrell will be right there to help.
NBC announced today that Will is set to be Conan's first guest on the couch, and Pearl Jam will appear as the first band under his watch.
Conan is slated to be Jay's last guest as the new era is ushered in, with the first Conan-helmed show taking place on June 1. Jay has been the host of Tonight for 17 years, and will step down on May 29.
Article continues below advertisement