NEWS
Will Ferrell to Meredith Vieira: "I'm Sorry You Got Fired"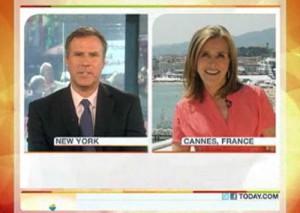 Will Ferrell made sure to send his well wishes and a jolly farewell to Meredith Vieira during his appearance on the Today show this morning. Meredith is set to leave NBC's morning program next month, and Will wanted to reminisce about the time he dropped Meredith while ice skating.
"I just want to say, you're welcome," Will quipped as he chatted with Meredith through video conferencing as the host is in Cannes, France covering the film festival.
Article continues below advertisement
"You know, Will, my lawyer has been trying to get in touch with you ever since then and you keep changing your phone number. What is that about?" Meredith asked
"You know, I'm a guy on the go," he responded. "I'm tough to find."
Meredith then took the time to praise Will for being "hysterically funny" and "one of the nicest people" she's ever met.
His response?
"We will miss you and I'm so sorry you got fired."
Will also chatted with Matt Lauer this morning about his experience on The Office.
Catch the clip, via TODAY, below! Will and Meredith's banter starts at the 3:50 minute mark!
Visit msnbc.com for breaking news, world news, and news about the economy