NEWS
Will, Jada Crash 'Lakeview Terrace' Premiere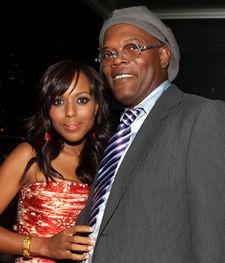 Will Smith commands the spotlight when he and Jada Pinkett Smith dash into the Lakeview Terrace premiere held at AMC Lincoln Square in NYC. Her brother, Caleeb, has a role in the flick, and the family is out in full force to support.
Will, who produced the thriller, runs through. "I'm a fantastic neighbor!" he says emphatically.
Samuel L. Jackson plays a bad cop and Patrick Wilson and Kerry Washington are his interracial-couple neighbors in the film that is in theaters now.
Article continues below advertisement
Hey Will, why Sam for bad cop?
"He has the specific karma to let it all out," Will says. "He has the specific point of view. I saw Sam from day one with that thing."
Eva La Rue says Britney Spears would make the worst neighbor. Why? "Can you imagine trying to get out of your driveway every morning with everybody else parked with coffee and doughnuts waiting for her to get up and come out and drive down the street?" she tells me. "I'm sure it would just be a nightmare. Poor thing."
Here's Kerry. "Good to see you!" she says. And who would be her pick for worst celeb neighbor? "I would hate to say," kind and thoughtful Kerry tells me. "You might think that somebody's going to be a bad neighbor, and then they might surprise you. That's the miracle of the human spirit."
Star Jones slides through, looking super-amazing for her. She's dating a chef, so what's her favorite dish he cooks for her? "None of your business!" she says, laughing.
MORE ON:
Red Carpet Confidential
Article continues below advertisement
Samuel's worst neighbor? None other than John McCain. "He's too short," he tells me.
Patrick is married to Dagmara Dominczyk, whose sister Marika is married to Felicity's Scott Foley – who was once married to Jennifer Garner (who is now married to Ben Affleck). Tangled web, right? (He also appears with Katie Holmes in All My Sons on Broadway now.)
What's the key to a happy marriage?
"Communication," Patrick tells me. "For me, that's really the important thing. Talking, communicating, trying to be on the same page about everything and making the right decisions."
Lakeview Terrace is in theaters now.