NEWS
WIll & Jada Keep it Hot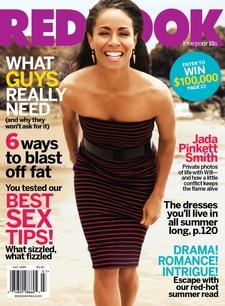 Will Smith and Jada Pinkett-Smith have been married for 11 years, a veritable lifetime in Hollywood. So how do they keep their relationship hot after all that time? They get creative, Jada reveals in the new issue of Redbook.
"Think of places outside that are comfortable to have sex. Does he have access to his office? Have a fantasy date. Be his secretary!" she says. "Be sneaky. Your girlfriend's house at a party. The bathroom! A guest room! Just switch it up. Anything like that can keep it going. Anything it takes to keep the flame alive."
Article continues below advertisement
Will and Jada sound like they have fun together in other ways as well, as Jada reveals another way they stay connected.
"The other day I put together a picnic basket and drove us to this hiking trail that I'd taken him to when we first met. No Secret Service, nothing. So we went up and had a really nice afternoon," she reveals. "We sat there for about an hour, just sitting on a bench overlooking the canyons. I'm getting teary just thinking about it. We were both replenished and so happy and connected in that one hour."
All those years together haven't just produced an active sex life and a penchant for picnics, they've also grown as a couple.
"There's a certain amount of safety you have to create for someone to feel like they can be open to you in that way. That's something we forget in marriages and relationships – they have to be places of safety, because they're where you're most vulnerable," Jada explains. "If you're not allowed to be safe, I don't know if you can reach the depths of connection that support commitment."