NEWS
Will Shannen Doherty Revisit 90210?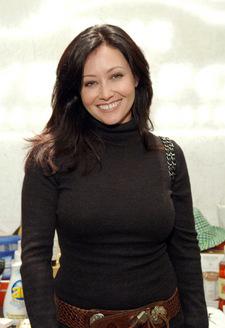 Is Brenda Walsh coming back?
Shannen Doherty is currently in talks with producers of the forthcoming 90210 spinoff to reprise her most (in)famous role to date, OK! has learned.
"They would love to have Shannen back to boost the show's ratings," a show insider tells OK!. "They know fans would tune in just to see their former favorite, Brenda Walsh."
Thus far, Beverly Hills 90210 originals Jennie Garth and have signed on to return to the CW's new breed in special guest star capacities. Should Shannen, 37, return as well, it will reunite her with her former on-set foe, Jennie -- not that Jennie minds.
Article continues below advertisement
"If Shannen comes to do the show... Excellent," the actress . "The fans would love it. I'm a big girl. I can handle anything."
On the other hand, co-star Lori Loughlin is against a Brenda comeback.
"I don't think anyone wants to touch that," she last month.