NEWS
William, Cheryl Get Friendly at 'Room' Premiere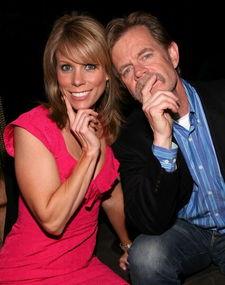 Felicity Huffman's hubby William H. Macy arrives incognito to the Tribeca Film Festival premiere of prom comedy Bart Got A Room. The mustachioed actor dons sunglasses and goes unnoticed as he walks the streets of NYC to his own movie premiere. Forget the limo!
I instantly like Bill, as the director calls him, who plays the dad.
"You're the American correspondent for OK!?" he asks me. "Do they send you over a lot? Do you get to go?" No, this is the American version, I explain. I've actually never been to London. "Fair. OK, what was the question? Don't let me interrupt you."
Article continues below advertisement
He tells me his daughters Sofia, 7, and Georgia, 6, are into books these days. "My oldest is reading voraciously," he says. "I knew it would happen. Now we have to go and say 'turn off the lights, put the book down and go to sleep.' She just loves reading." The girls love to read themselves – and to be read to. Their favorite stories? Chronicles of Narnia and James and the Giant Peach. "I've pretty much got that one memorized," he says.
"Thank you for talking to me," Bill says. My pleasure!
Here's Cheryl Hines, who plays the mom in this prom flick.
What was her prom experience like?
"You'd look for a dress that would look OK even after you sweated in it – I learned that the hard way with my blue taffeta -- go to dinner at a great little restaurant and somebody would have enough money to get appetizers if you wanted," she says. "Then you'd go to prom and dance. Our song was Don't Stop Believin. And it was very inspirational."
Pick up the OK! on newsstands now for more coverage of the Tribeca Film Festival. "Angelina and Brad's Wedding of the Year" is the cover line.