NEWS
William H. Macy, Felicity Huffman Make Family Time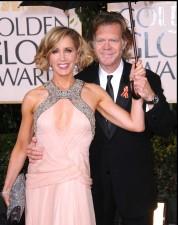 William H. Macy and wife Felicity Huffman keep their household running smoothly by assigning chores to daughters Sofia, 9, and Georgia, 7.
"They set the table and they clear the table," the actor, 59, tells me. "They're pretty good about it. They have to make their beds and pick up their rooms and do homework. At night, we start to give them more and more responsibility. We used to take them back and help them get their nightgowns on and brush their teeth and all that stuff, but now we say 'go do it!'"
Article continues below advertisement
At the end of the evening, the girls look forward to their reward.
"They love to read, so the carrot is reading. The stick is 'hey, the longer it takes you to brush your teeth and get your nightgown on, the less reading time.' And they will do anything to get more reading time. We try to keep it to 45 minutes of reading per night. But it's so cute. Now, sometimes we'll put them in bed and they've gone into each other's rooms and read to each other."
He continues, "I realize the pandemonium of the nighttime – finishing dinner, getting homework done, cleaned up, getting them into their nightgowns, reading and getting them to bed – I really miss it when I'm away. It's a burden when you're at home, and it's easy to get cranky with them because we're trying to get the whole nighttime put-down into about an hour. And it can very easily take two hours."
Article continues below advertisement
What also brings him happiness is their wit.
"The first time any of them used irony was a great joy in my life," he says. "Sofia made a joke when she was less than 2. She was barely talking. One of our nannies is named Marta, and she would say 'Adios, Marta' early on. She was eating her cereal, called Oatie-os. She looked at the cereal, and she looked at Marta and said 'Oatie-os, Marta.' Just peels of laughter. I thought 'oh my Lord, my daughter just made a joke.'"
The couple, who wed in 1997, sneak away for date nights like Sunday's during the Golden Globe Awards. He lavishes Felicity, 47, with praise.
"I love the way she looks," he begins. "She's always been sort of a dreamgirl for me from the first time I ever saw her. I love her bone structure. I love everything about her. And she's got an astounding body. I think even though she's spiritual and a relatively deep thinker, she has a lot of empathy for what is going on in the world – but despite that, I think a laugh is about the closest thing to the surface for her. She has a beautiful laugh, and it's never far away. She's self-deprecating, laughs at herself a lot, she absolutely adores me, and only wants good for me. And I've been in relationships where that wasn't the case. She only wants me to succeed and to be happy."
Article continues below advertisement
What's the secret to keeping their union strong?
"Never marry someone who's not nice. Nice people are fun to be with, and mean people suck. I just got lucky – that's really the truth of it."
Of an appearance on Desperate Housewives, he says, "Oh, it could happen. It feels like that's her gig, and she's so good on the show. I love watching her on it so much, that I think it's best that I not do it."
Here's a pic of William and I:
Catch Desperate Housewives Sundays on ABC.