NEWS
Will.i.am Says Justin Bieber's Career "Could Be Like Michael Jackson"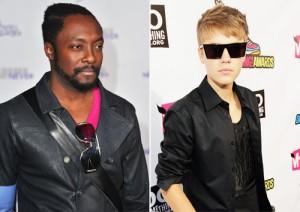 Will.i.am is the biggest Belieber in Justin Bieber. The Black Eyed Peas frontman made a pretty bold claim about The Bieb, likening the 17-year-old singing sensation's career to none other than the late, great King of Pop: Michael Jackson!
Will.i.am is currently working with JB on his third studio LP, and recently gushed about the pop star to Radio Disney.
Article continues below advertisement
"I was with Justin Bieber in the studio two days ago, working on his new album, and we had a really great conversation," he revealed to the radio show, via MTV UK.
"Justin Bieber could be like Prince," he continued. "Justin Bieber could be like Michael Jackson, where his career is like, 'Wow! Explain how it's 2030, Justin Bieber, and your career is so long. You're the first artist to be broadcasted to Mars. How do you feel about that?' Justin Bieber could be that dude."
So what exactly was the conversation about?
"That's the conversation we had, and then we started working on things from scratch like here, right. I wanted to do something with Justin that probably no other producer would do or took the time to think about to do," he said. "You know, I'm excited about the stuff we're making."
Do you think JB's career has a long shelf life? Sound off in the comments!