NEWS
Will.I.Am Vs. Perez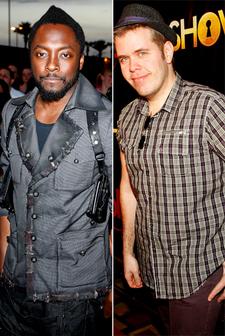 Goodness! There's quite the to-do for you this Monday morning, folks!
There's so many Tweets, video blogs and Dips (more on them later) flying around here that we barely know where to start on this one... but here goes.
As far as we can tell, Perez Hilton is claiming that Will.I.Am of the Black Eyed Peas sicced his manager on him, and that the manager punched him several times in the head.
So here's what Perez is saying:
Article continues below advertisement
The Queen of All Media claims that it all started when the band's singer, Fergie, confronted him at the MuchMusic awards in Toronto last night about being mean about their new single on his blog, and that a little later a member of the Peas' entourage shoulder-barged him as he passed by.
Later, at around 2 a.m., Perez and the Peas crossed paths again at a Universal Music afterparty at a club named Cobra. This time, says Perez, things went a little further.
On a video blog entitled, My Statement, this morning, a very teary-eyed Perez says: "Will.I.Am sees me and comes directly towards me like a heat-seeking missile."
The blogger says that the rapper was "screaming in his face" and demanding that he never write about the Peas on PerezHilton.com again.
But Perez, in a fit of indignation, decides to show that he "is not intimidated" by saying "the worst possible thing that thug would ever want to hear."
Article continues below advertisement
So Perez tells Will.I.am, "You're a fag! You're gay!" and makes for the exit — only to be met outside by Mr I.Am and his manager, Polo Molina.
Hilton says that Polo "from behind, clocks me in the eye" and "punches me two or three times" leaving him bleeding and terrified.
At this point Perez jumps in his car back to his hotel and Tweets: "I was assaulted by Will.I.Am of the Black Eyed Peas and his security guards. I am bleeding. Please, I need to file a police report. No joke."
According to Perez, Will.I.Am and Polo followed him back to the hotel (where they were also staying).
Today Will.I.Am has shot back with a video claiming that not only did he not assault Perez, but that Perez is just using a minor incident for publicity.
Will says on the video that he thinks it's strange that, if it was such a big deal, Perez would Tweet about the incident rather than calling the police.
Article continues below advertisement
"It sounds like somebody wants mad attention," said Will.I.Am on his DipDive site — through which he had been reporting the whole thing in a series of "Dips", which are like the Peas' own special Tweets — "and is not really concerned about his health."
Anyway, so Perez claims responds that he'd only "took to Twitter" because the police hadn't responded and he was scared that one of the guys might have a gun, he felt "helpless" and the Tweets were a "cry for help" — apparently quite an effective one, since Perez's fans bombarded the Toronto police with calls.
So the situation right now is that TMZ is reporting that the Toronto police told the Black Eyed Peas they would not be allowed to leave the county until Polo had turned himself in.
The site is reporting the Polo has now been charged with assault and that Perez plans to press the case.