NEWS
Willow Smith a Fan of Rebecca Black? Justin Bieber's "Lil Sis" Catches the "Black Plague"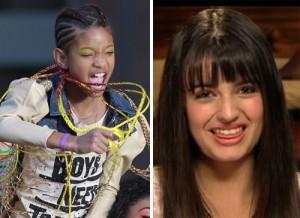 Mar. 21 2011, Published 3:45 a.m. ET
View all comments
Willow Smith is jumping on the Rebecca Black bandwagon. Justin Bieber's "lil sis" — and opening act on his tour — turned to her Twitter this weekend to give a special shout-out to the Internet sensation, who has been begging to do a duet with The Biebs!
Willow took to her Twitter and recognized the 13-year-old singer with the following message:
Article continues below advertisement
Rebecca was so flattered that she re-Tweeted Willow's message on her new official Twitter account which was created last Friday with the help of Ryan Seacrest.
Rebecca also received a Tweet from JB himself, a semi-response after she asked him last week on GMA: "Justin, if you're watching this right now, would you do a duet with me?" she asked the teen heartthrob. "That would be just unreal — it would make my life!"