NEWS
Win A Trip To The Royal Wedding!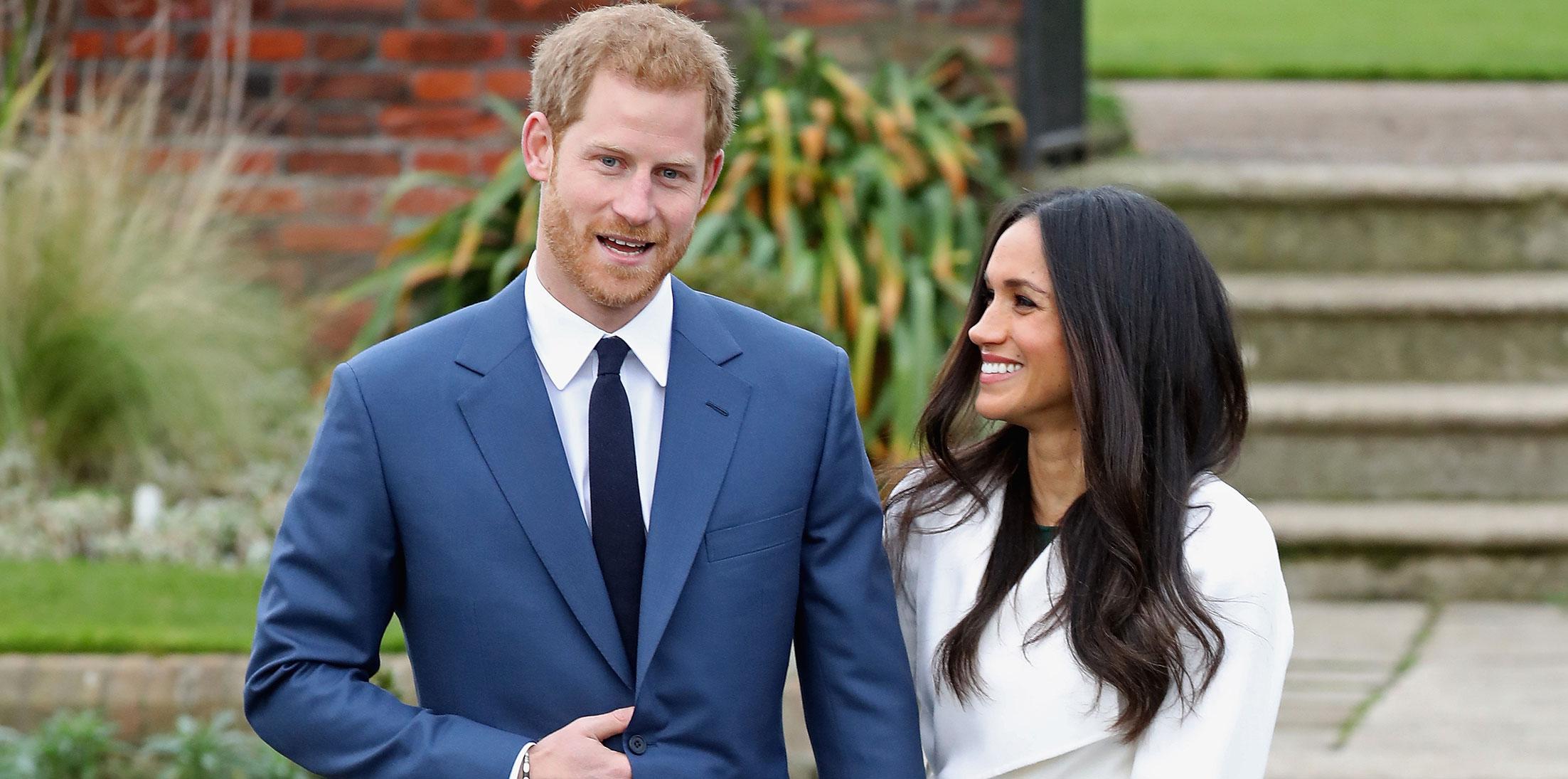 Once upon a time, on a coast far, far away from the U.K., no one could have imagined that the plucky 13-year-old dishing out frozen treats at a Los Angeles Humphrey Yogart would one day be a princess. Now Meghan Markle's Cinderella story — from fro-yo server to starlet to royalty — will be complete when she weds Prince Harry on May 19, and OK! has the scoop on every last detail of their plans.
"Meghan is living the dream and even she has to pinch herself now and then to check if it's real," a friend spills to OK!. "She's telling her friends this feels like a fairy tale, and it keeps getting better."
Article continues below advertisement
THE REGAL DETAILS
With just five months to go before the big day, wedding prep is well and truly underway at Kensington Palace. The source reveals that although the royal family is paying for the grand affair, Meghan, 36, is involved in every step of the process to ensure the nuptials have a personal touch. "Even with the world watching, she wants to make the wedding feel intimate," explains a palace insider. "From the vows to the food, it's going to be clear that the day is all about celebrating Meghan and Harry."
Following the 33-year-old prince's engagement, Kensington Palace announced the wedding will take place in St. George's Chapel at Windsor Castle — the oldest and largest inhabited castle in the world, valued at $372 million.
"Meghan will stay at one of the posh hotels nearby with her bridal party the night before and arrive to the chapel in an old-fashioned limousine," reveals the insider. The ceremony is expected to be televised and "will begin at 11 a.m. sharp," the insider adds, "so Americans will have to wake up bright and early if they want to tune in on Saturday morning!"
Article continues below advertisement
While the nuptials will be filled with famous faces, the guest list won't exceed 800 — half the number of people who attended Prince William and Duchess Kate's lavish 2011 affair — mainly due to capacity issues at Windsor. But plenty of those guests will have famous faces, including many in the wedding party. Meghan has already tapped best friend and stylist Jessica Mulroney to be among her six bridesmaids, shares the source, as well as designer Misha Nonoo, the mutual pal who is rumored to have set the couple up on their first blind date. And don't be surprised to see her good pal Serena Williams at the altar too. "Ever since they met three years ago, they've shared a close bond," says the friend.
A MODERN TWIST
While past royal brides have made a point of wearing gowns from British fashion houses, it's likely Meghan will continue to flout tradition by selecting a dress by a foreign designer. Israeli Inbal Dror, known for her plunging necklines and racy silhouettes, is said to be the top contender, but her design for the soon-to-be princess will be more demure. As Meghan has said when describing her dream wedding dress: "Classic and simple is the name of the game."
Article continues below advertisement
PARTY TIME
After the ceremony, a horse-drawn coach will carry the bride and groom from the chapel to the castle for their reception. Royal chef Mark Flanagan will oversee a menu made from local ingredients, and Harry has put in a special request for a banana and caramel cake, "his favorite as a boy," the insider says. Then it will be time for drinks and dancing — and likely a performance or two from world-class singers such as Chris Martin or Sam Smith. "They are all well-acquainted with Harry through his charity work," says the palace insider, "and he's keen to have them at the wedding."
Of course, the onetime "Party Prince" won't let things end there. Word is the couple have chosen an even smaller room at Windsor
Castle for an afterparty where they can really let their hair down. "They know some guests will trickle out by midnight, but Harry and Meghan
are young and full of life," says the insider. "They want this celebration of their love to go till 5 a.m.!"
Now you have a chance to join in on the fun! Enter for a trip to the royal wedding.
Article continues below advertisement
OK! ROYAL WEDDING GIVEAWAY
OFFICIAL SWEEPSTAKES RULES
NO PURCHASE OR PAYMENT OF ANY KIND IS NECESSARY TO ENTER OR WIN THIS SWEEPSTAKES. A PURCHASE WILL NOT IMPROVE YOUR CHANCES OF WINNING.
To enter, please email RoyalGiveaway@okmagazine.com.
The email must include your full name, age, address and phone number.
1. How To Enter: Beginning at 12:01 a.m. (EST) on December 28, 2017, visit https://okmagazine.com/news/win-trip-royal-wedding/ and follow the sweepstakes directions. Each entry must contain answers to the questions posed to qualify for the drawing. All entries must be received no later than 11:59 p.m. (EST) on January 27, 2018. Only one internet entry per person and per e-mail address per week will be accepted. Subsequent entries will be disqualified. Subsequent attempts made by the same individual to submit multiple internet entries by using multiple e-mail addresses or otherwise will be disqualified. In the event of a dispute over the identity of an online entrant, entry will be deemed submitted by the authorized account holder of the e-mail address associated with the entry. Authorized account holder is defined as the person assigned to an e-mail address by an Internet access provider, on-line service provider or other organization responsible for assigning e-mail addresses. All materials submitted become the property of Nutrivo, LLC/Rule 1 ("Sponsor") and will not be returned.
2. Winner Selection / Random Drawing: Winners will be selected in a random drawing to be held on or about February 1, 2018, from among all eligible entries that are complete. The random drawing will be conducted by representatives from Sponsor whose decisions are final and binding in all respects relating to this Sweepstakes. Odds of winning a Prize depend upon the total number of eligible entries received.
Article continues below advertisement
3. Prize: 2 roundtrip tickets, not to exceed $1,000 each; 3 nights hotel room, not to exceed $1,000.
The total prize value of this sweepstakes is $3,000.
4. Sweepstakes is open only to legal residents of the fifty (50) United States and the District of Columbia, 18 years or older. Employees of Sponsor, American Media, Inc., or each of their affiliates, subsidiaries, advertising or promotion agencies, and their immediate family members and/or those living in the same household of each are not eligible. Void in Puerto Rico, Canada, and where prohibited or restricted by law. No substitution or transfer of Prize is permitted. All federal, state and local taxes and any expenses relating to the acceptance and use of a Prize are the sole responsibility of each Winner. All federal, state and local laws apply.
5. Potential Winners must submit an Affidavit of Eligibility / Release of Liability / Prize Acceptance Form within seven (7) business days of attempted notification. If any Prize or affidavit or release is returned to Sponsor as undeliverable or if Sponsor does not receive a response from any potential Winner within seven (7) business days of attempted notification, such Winner may be disqualified and such Prize will be awarded to an alternate Winner. Non-compliance shall result in disqualification and award of Prize to an alternate Winner. By accepting Prize, Winners consent that Sponsor or American Media, Inc. may use the Winners' names, photographs, or other likenesses, the Winners' hometown and biographical information, statements concerning the contest entry, or Sponsors' products without compensation for purposes of advertising, promotion, and merchandising, and grant all rights to edit or modify and to publish and copyright it. Winners must also make themselves available to travel at Sponsor's expense for promotional purposes. By accepting Prize, Winners agree to hold Sponsor, American Media, Inc., and each of their respective directors, officers, employees, and assigns, harmless against any and all claims and liability arising out of Prize. Winners assume all liability for any injury or damage caused, or claimed to be caused, by participating in this Sweepstakes. By participating in this Sweepstakes, entrants agree to abide by and be bound by these Official Rules, and understand that the Sweepstakes results are final in all respects. By participating in this Sweepstakes, entrants agree to hold Sponsor American Media, Inc., and each of their respective directors, officers, employees, and assigns, harmless against any and all claims and liability arising out of Prize. Entrant is responsible for all online charges incurred by Internet Service Provider.
Article continues below advertisement
6. Neither Sponsor, American Media, Inc., any telephone network, nor service providers are responsible for incorrect or inaccurate transcription of entry information, or for any human error, technical malfunctions, lost/delayed data transmission, omission, interruption, deletion, defect, line failures or any telephone network, computer equipment, software, inability to access any Web site or on-line service, or any other error or malfunction, or late, lost, illegible, incomplete damaged, postage-due, mutilated or misdirected entries or entries not properly forwarded to Sponsor or American Media, Inc. Entry materials that have been tampered with or altered are void. If the judges determine, in their sole discretion, that there is any suspected or actual electronic tampering with the Sweepstakes or if technical difficulties compromise the integrity of the Sweepstakes, the judges reserve the right to void the entries at issue and conduct a random drawing to award the Prize using all eligible entries received as of the termination date. If the Sweepstakes is terminated due to tampering or technical difficulties prior to its expiration date, notice will be posted at www.okmagazine.com. Any attempt to deliberately damage the content or operation of this Sweepstakes is unlawful and subject to legal action.
NOTE: Internet entry must be made by the entrant, only at the authorized website address of www.okmagazine.com. Entries made by any other individual or entity and/or originating at any other Internet website or e-mail address, including but not limited to commercial contest subscription notification and/or entering service sites, will be declared invalid and as such ruled ineligible for this contest.
Article continues below advertisement
7. Opt-In: Any information entrants provide to the Sponsor or American Media, Inc. will be used to communicate with entrant in relation to these Sweepstakes. Sponsor or American Media, Inc. may also share this information with third parties who are participating in this program. Sponsor, American Media, Inc., or third parties may contact entrants at a future date about services the Sponsor or American Media, Inc. believes entrants will find of interest.
8. This Sweepstakes is sponsored by Nutrivo, LLC, 1785 N Edgelawn Dr, Aurora, IL 60506.