NEWS
Winehouse Comeback Ruined by "Technical Difficulties"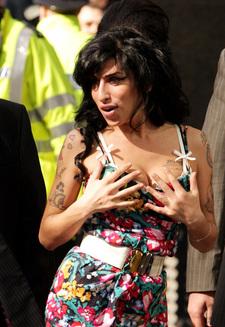 Stopping her concert after only a few songs wasn't exactly the best way for Amy Winehouse to show her love for her new home of St. Lucia. But that's exactly what happened on Friday when the controversial singer bailed on her first live performance in months.
Some reports claim that what little singing Amy did before walking off the stage was "painful," with Winehouse apparently forgetting the lyrics to one song and shrugging it off by telling the audience, "Sorry, I'm bored."
Article continues below advertisement
But a rep for Amy tells a different story, placing the blame squarely at the feet of Mother Nature.
"Amy would like to express her disappointment that weather forced the abandonment of her show at the St Lucia Jazz Festival last night," read a statement released by her rep. "The set started well, but as the heavens opened, a number technical difficulties occurred on stage, culminating with the lighting rig failing for two songs.
"In addition, rain began to flood the technical wings at the side of the stage which caused sound problems. Amy and the band tried to soldier on but the set had to be cut short.
"Amy is very disappointed as St Lucia has been wonderful to her and its people have welcomed her with open arms, but circumstances beyond anyone's control meant that this special show did not go as planned."