NEWS
Winehouse's Mom: Amy on Road to Recovery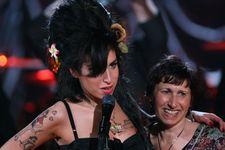 Amy Winehouse's spirited performance at Sunday's Grammy Awards is a sign that the singer is getting her life back on track, her mother, Janis Winehouse said on Monday.
Amy's mom gave an interview with Britain's GMTV, where she said her daughter's successful performance is proof that she is on the road to recovery. "Well, it's Amy coming back, she's definitely on the way back," she said.
While, in reality, it may still be too soon to tell, one thing is certain Amy's performance at Sunday's show (watch video clip ) capped off an amazing night for the singer — she won five Grammys, including Best New Artist and Record of the Year. It was perhaps the crowning achievement to what has been a spectacular 18 months for the 24-year old singer-songwriter. Her album, Back to Black, has sold over 5 million copies worldwide.
Article continues below advertisement
But it's also been a tumultous time. Sunday was Amy's first performance since being released from a London rehab clinic for substance abuse. Just a few weeks ago, a video surfaced showing Amy allegedly with a group of friends. The video prompted her to enter a rehab facility soon after.
On Monday, reps for the singer told the A.P. that she is still being looked after. "She is an outpatient and she is under medical supervision and the treatment continues," said Chris Goodman of Winehouse's P.R. firm, The Outside Organization.
"As you saw, she looks good and it's a case of she's on the road," Amy's mom, Janis said. "That's what it's all about — she's on the road to recovery."