NEWS
Woman Accusing Shaquille O'Neal of Harrasment Hires Lawyer Gloria Allred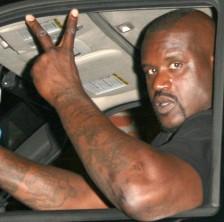 Jan. 2 2010, Published 12:13 p.m. ET
View all comments
Following a shaky marriage to soon-to-be ex-wife Shaunie Nelson, Shaquille O'Neal has some more legal woes on his back aside from divorce as Vanessa Lopez claims harassment against the NBA star with the help of attorney Gloria Allred according to new reports.
Vanessa has hired infamous celebrity attorney Gloria Allred to fight her case, Radar Online exclusively reports.
"I can confirm I'm representing Vanessa Lopez," Gloria, who also acts as legal representative to Tiger Woods' mistress Rachel Uchitel, reveals to Radar Online.
Article continues below advertisement
And the Cleveland Cavaliers basketball pro has a few similar problems in the past, which will most likely not help him if Gloria takes the case to court.
Radar Online reports that hip-hop singer Alexis Miller filed a restraining order against Shaq in 2008 for threatening her career and well-being after they stopped being romantically involved.
Shaquille has a total of six children, four of which are from his recent marriage to Shaunie.