NEWS
The Woman Behind the Music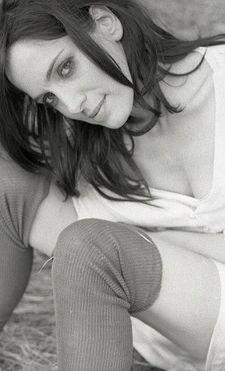 I just spoke to AND separately within the last two hours. I'll tell you a bit about that, but first...Besides being mega-hits, what do 's "Rich Girl," Kelly Clarkson's "Walk Away," Avril Lavigne's "Forgotten," "Slipped Away" AND "How Does It Feel?" have in common?
They were all penned by Canadian singer/songwriter Chantal Kreviazuk. I have always loved saying her name, and really like "Leaving on a Jet Plane," that she sang herself on the "Armageddon" soundtrack, but until yesterday I had no idea that she's the unsung hero behind some pop music's biggest successes.
Article continues below advertisement
When I sat down with her, on the bench of a piano at The Windsor Arms Hotel (where George Clooney was with Sarah Larson on his arm later that night), I was also so happy to learn that she's a truly amazing person and artist, a bright light with so many passions, thoughts and ideas that she's sure to be providing material for music's most famous faces for years to come - and, with what she told me is the best song she's ever written, that she's still debating keeping or giving away - hopefully we'll see a top ten single performed by her soon as well.
In sadder news, today I was also victim to one of a journalist's biggest nightmares - my mini digital recorder decided to cease working mid- interview. Chantal had such eloquent answers to all of my questions that I unfortunately wasn't able to caption verbatim -except for her feelings on young Hollywood, which thankfully recorded loud and clear.
Chantal, who splits her time between Toronto and Los Angeles will be in Toronto this weekend and she said not watching MTV's Video Music Awards because, "It would just make me sad." Chantal had the opportunity to briefly go into the studio and work with show opener not too long ago and said, "I have some knowledge about this and I really believe Britney exhibits classic signs of having bi-polar disorder. It's really sad."
Article continues below advertisement
As far as the near epidemic of young stars gone awry, she said: "I have a very strong opinion about this. All of these artists who do what we do didn't get there by themselves. The first thing to remember is no matter who you are and how much success you have, you are absolutely and unequivocally lucky...Nothing that you have are you entitled to. nothing came because you have talent or because you worked hard, bs, you are lucky."
She explained, "What happens is people start to buy into themselves and start to think they are actually responsible in some way, shape or form for everything that they have, which couldn't be further from the truth! It happens when they're young and come by all sorts of success and they have all these people around them who feed that idea. On a positive note they believed in their talent and they had a vision and helped perpetuate it. They saw something beautiful in a talent and an opportunity but then what happens is the individual becomes an adult and says I don't need to answer to anyone anymore because now I'm an adult. Then they slowly start to dismantle anyone from their life who says no to them or disagrees with them because when you're an adult you make your own decisions, right?"
Article continues below advertisement
Likening the result to a pendant without a chain, she continued, "That group, or team around you has been the people who were presenting you in the best light and helping you to become the success that you did (Britney, are you listening?). So, as you start dismantling these people, coming into your own if you will, you're taking away these links in the train. The pendant doesn't stick by itself with sticky tape on it, it's the chain around it that helps it to sit on the clavicle. They're not conscious of it at the time but they've taken away the links of the chain that kept them healthy and led to their success."
Chantal works with a lot of young talent, citing Pink among her favorite, and said, "I take a risk because when I invite you into my home you become family and I try to offer you the most healthy and honest possible perspective and insight as somebody can give because I am an adult, I have children of my own and if they'll take it great, if not, there's nothing I can do. But, it's a little frightening to me for someone so young having so much power over their own world, because it's a scary world."
Article continues below advertisement
And she's gracious..."Whenever I go on stage I think of my mom saying, 'Chani, did you write the check?' It makes me want to cry because my mom would put the check to pay for my lessons in my dictational and I would get to my lesson and the teacher would just casually take that out and I never thought about it. But on stage, like last night I played in front of 15,000 people, and I walked out on stage and I was filled with so much honor and validation and I wouldn't have that without that check. My dad worked hard and I think about the money he spent to get those piano lessons or voice lessons or whatever it was and I'm soooo lucky. I'm lucky, it's all luck."
Yes, I would take luck over brains any day, but sells herself short on that point, because she's been blessed with both - and any young Hollywood pop star would be especially lucky to have this star pen a song for them.