NEWS
The Women of 'What To Expect When You're Expecting' Cover Redbook & Talk Babies!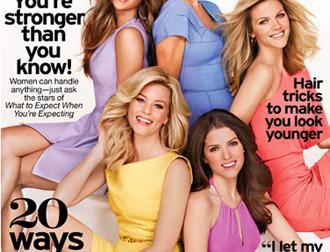 View all comments
The gorgeous stars of What To Expect When You're Expecting teamed up once again for the cover of Redbook magazine's June issue! Cameron Diaz, Jennifer Lopez, Anna Kendrick, Brooklyn Decker and Elizabeth Banks play the soon-to-be mothers in the highly-anticipated film and sat down with Redbook to talk motherhood, babies and pregnancy. 
"I'm sure a lot of people would expect that I would have had a child by my age. But it's not what I've wanted out of my life thus far," Cameron, who plays a pregnant Dancing With the Stars kind of character in the movie, says of feeling the pressure to have kids of her own. "We still live in a largely chauvinistic world. There's a box people put themselves in, and when you live outside of it, that makes them uncomfortable — they have to look at themselves and question their own choices."
Article continues below advertisement
OK! GALLERY: CHACE CRAWFORD BEGINS PROMOTIONS FOR WHAT TO EXPECT WHEN YOU'RE EXPECTING IN LONDON 
Cameron adds that although she's always wanted kids, her life took a different path once her acting career started to flourish. "I thought I was going to be married and have two children by the time I was 21," she adds. "I think I felt I had to model my life after my mother's. But then my career was starting to take off and there were still so many things I wanted to do. So that dream for me was shattered early on. After that I never put another timeline on anything in my life."As for Elizabeth Banks, who welcomed her first child Felix via a surrogate last year, she believes there's never a "right" time to have a baby — just go with it! "I definitely don't think you have to wait for a right time. I mean: Why wait?" Elizabeth explains. "The Chinese believe that if you have a baby, what you want comes together even better. You just do it, and make it work."OK! VIDEO: WHAT TO EXPECT WHEN YOU'RE EXPECTING TRAILER RELEASED FEATURING CAMERON DIAZ & JENNIFER LOPEZ! So how does Jennifer Lopez, the mother of 3-year-old twins Max and Emme, make it work? "My sanctuary is my bathtub," J.Lo admits. "That's really the only time I get to myself. It's usually around 15 or 20 minutes, but for me, those minutes are like heaven on earth. Sometimes I even say a little prayer while I'm in there. I'm like, 'Lord, help me get through this day!'"Make sure to check out What To Expect When You're Expecting on May 18 and for much more with the lovely cast, pick up the new issue of Redbook, out May 15.