NEWS
World Exclusive: Kendra's Post-Baby Diet Secrets!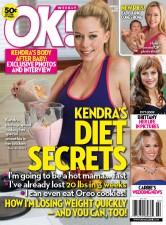 In an exclusive at-home interview, new mom and OK! cover girl Kendra Wilkinson shares her diet secrets and plans for getting her Playboy body back... fast! "I'm gonna be a hot mama!" pledges the star of E! reality show, Kendra.
Kendra, who gave birth to her first son with Hank Baskett III Dec. 11, already has a serious workout regime — thanks to her 3-week-old baby, Hank IV. "The doctor said I can't exercise until after six weeks due to a C-section, but getting up and down in the middle of the night — feeding him, changing him and soothing him when he's crying — is my ab workout already!"
Article continues below advertisement
OK!, which brought you Kendra's first published baby photos two weeks ago, sat down with her on Dec. 26 for an exclusive at-home interview; she opened up about her adorable son Hank IV coming home and her plans to get her body back into pre-pregnancy shape.
For Kendra's diet secrets, including her own healthy recipes and easy workouts, pick up the new issue of OK! — on sale everywhere Thursday!
ALSO IN THIS WEEK'S OK!:
Kate Hudson & A-Rod: Kate might be putting on a happy face as she promotes her new movie Nine, OK! gets to the bottom of what really happened between the actress and her Yankee slugger — AND what did Madonna have to do with it?
Brittany Murphy: In the wake of the Clueless star's shocking death at 32, OK! takes a look back at her career — and investigates how it all started to change for the worse after she got married to Simon Monjack.
EXCLUSIVE: Jersey Shore's Snooki: OK! gets up-close-and-personal with Nicole "Snooki" Polizzi, the infamous new reality star of MTV's controversial Jersey Shore. In an exclusive interview, Snooki reveals all — including what she would say to man who punched her!
AND MORE