NEWS
Wrestling Champ Chris Jericho Opens Up on Fozzy's New Record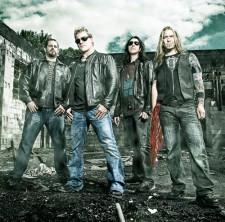 Chris Jericho is a jack-of-all-trades. The Canadian-born pro wrestler, author, radio host and musician has worked hard at establishing his name in the entertainment industry and the world of music. Now, Chris is taping WWE SmackDown, a weekly wrestling show that has become a part of him, while simultaneously promoting his group Fozzy's new album, Chasing the Grail.
Fozzy, a true American heavy metal band, formed in 1999, with Chris starring as the group's frontman. He opens up to OK! about Fozzy's new record, his rock/wrestling idols, and who he thinks is the most beautiful woman of all time (besides his wife).
Article continues below advertisement
You started Fozzy out as a more humorous project. What made you get more serious with the new record?
After we made a record or two and had done some touring we decided we were having too much fun to stop, but we knew that a gimmick was not the way to go. So we decided to drop that and do all original stuff, and take the makeup off, so to speak.
Who are some of the best musicians you've ever shared a stage with?
We did the Download festival in 2006 with Megadeth, Black Sabbath and Slipknot. We opened for Motorhead, which was a great gig and had a lot of fun with that. We played with Judas Priest before, and also the guys that are in my band. Rich Ward is an amazing guitar player, and Sean Delson is a great bass player. Like I said, we have a great band and we're not afraid to share the stage with anyone and tear the house down.
Article continues below advertisement
Where did your dream to perform come from?
Well, it's funny because as a wrestler, I always wanted to work in Madison Square Garden. Obviously to play with the band at MSG would be huge. In London we played the Astoria, it's a legendary venue. The Beatles played the Astoria, Iron Maiden also played there. So, to go a place like that and have 2,000 fans there to hear Fozzy, that to me was huge.
Do any other wrestlers or celebs come to your shows?
Steve Austin used to come to a couple of our shows.
Who do you think is the most beautiful woman of all time?
Wow laughs. Obviously my wife. As far as famous people, I would say Pamela Anderson, around 1995. I was always into Jennifer Aniston when she was on Friends.
Who are your some of your rock idols and wrestling idols?
Well, my favorite band is The Beatles. I love Van Halen. As a band, we are very much a melodic heavy metal band, a lot of harmonies, which is due to The Beatles' influence. Also, bands like Black Sabbath and Metallica have influenced us riff-wise.
Article continues below advertisement
I was a huge Hulk Hogan fan, he was my hero. Ricky "The Dragon" Steamboat was another one. The fact that I got to work with both of those guys, and have good matches with them was a cool, "life coming full circle" experience.
What is your favorite song of all time?
It all depends on the mood I'm in, but a song I always like to listen to is "I Want You (She's So Heavy)" by The Beatles. It's very experimental, there's great bass playing, great guitar work, great singing. To me, it epitomizes what The Beatles were all about. My favorite heavy metal song would have to be "Battery" by Metallica. Love the energy, the riffs, the bass playing.
What is in your fridge at all times?
Umm… a roasted chicken, grapes, steak, sausages in the morning for breakfast, some eggs.
Who are some of your favorite clothing designers?
I'm going through a True Religion phase. I'm kind of done with Affliction, that's kind of over with. So I'll stick with True Religion right now.
If you weren't wrestling or doing music, what would you be doing right now?
I'd be a full-time dreamer. I have a journalism degree — I love to write. I'm writing a follow-up to my New York Times best-selling autobiography. Either writing for a newspaper, doing books, something along those lines.
Reporting By Stjepan Pavich