NEWS
Wrestling with his Weight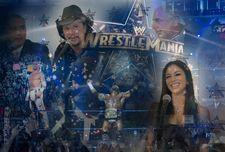 He's Mickey Rourke, and he'll box if he wants to – even if it's at Wrestlemania.
A few weeks ago I went back to Houston, TX (for the first time since I moved from there to New York nearly two decades ago) and I met Ajaz Akhtar, whose mom had worked with my aunt at Microbiology Specialists Inc. for decades and now AJ does as well. Speaking to him in the lab he expressed his desire to get out from behind the microscopes and instead behind a camera. WWE's Wrestlmania hitting Houston shortly thereafter provided the perfect place to throw him into the action.
Article continues below advertisement
After being tossed into a photo pit to do a bit of wrestling himself against all of the other photogs vying for the perfect shot, AJ caught a few fights. He said professional WWE wrestler Chris Jericho, 38, knocked out legends like Ric Flair, Roddy Piper and Ricky Steamboatbit but, "bit off more than he could chew by challenging Mickey Rourke to come into the ring and fight him." Mickey chose to box rather than show off any skills he may have retained from his training on the set of "The Wrester" and AJ said he had Jericho on the mat after a punch to the jaw. But, is he strong enough for "Iron Man 2" yet? When AJ asked the Oscar nominee he answered honestly, ""No, because I walk around at about 192 pounds and had to get up to 230 for "The Wrestler." For "Iron Man 2" I have to go back underneath 192 and it ain't that easy taking the weight off. I'm still trying to get in shape for Iron Man 2".