NEWS
Wuphf! 'The Office' Creates Its Own Social Network!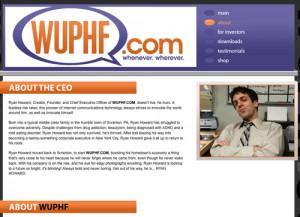 The new temp at Dunder Mifflin Inc, Ryan Howard, wants to expand the company's outreach beyond selling paper. Last night's episode of the NBC's hit comedy The Office expanded beyond the pad and pencil into a new realm for employees — technology led by Ryan (B.J. Novak) who seems to be despised by most of the staff.
In last night's episode entitled "WUPHF.com," Ryan takes on his own social media service called WUPHF (or "woof").
Article continues below advertisement
Looks like writers are making a jab at the realm of Twitter and Facebook.
So how does the social networking site operate? WUPHF allows users to send out a message — also called a WUPHF — to any device or platform in existence.
As Ryan explains to Michael (Steve Carell)...
Michael: I sent you a Facebook message yesterday and still haven't heard anything back!
Ryan: You should have sent a WUPHF.
Michael: A what?
Ryan: When you send a WUPHF, it goes to your home phone, cell phone, email, Facebook, Twitter and home screen — all at the same time.
Oh, in case you are wondering, WUPHF.com has its own domain on the Interwebs!