NEWS
Wyclef Jean: "This is Apocalypse"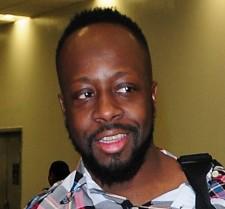 Haitian-born rapper and activist Wyclef Jean says America needs to raise a million dollars a day to help the stricken island of Haiti, which was stuck by a magnitude 7.0 earthquake on Tuesday.
Wyclef explained the true extent of the horror in the streets of Haiti in a phone interview on the Fox News Channel's Special Report with Bret Baier from the Caribbean island last night.
"This is apocalypse," he said. "The reality here at the airport has nothing to do with what's going on on the ground right now.
Article continues below advertisement
"We spent the day picking up dead bodies, all day that's what we did. There's so much bodies in the streets that the morgues are filled up, the cemeteries are filled up. So we participated in picking up the bodies and finding a place that we could put the bodies."
News organizations and charities can only guess at the death toll but Wyclef said, "the count is not 100,000 there's at least, has to be four to five hundred thousand people that is about to die.
"I'm telling you, I'm on the ground. The numbers are high — we're talking about, we need a state of emergency."
Wyclef, who along with Brad Pitt and Angelina Jolie has called on the international community to help the people of Haiti said, "we have to raise a million dollars a day. In four or five days, this whole country is going to be in chaos.
"We are calling for a state of emergency, please President Obama, Secretary of State Hilary Clinton. We have to do something for this country."