NEWS
Wyclef Jean Helps Raise $2 Million for Haiti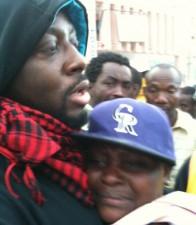 While celebrities have been bending over backwards to help the crisis in Haiti, Wyclef Jean has already raised $2 million in donations for the cause.
Employing his new campaign into immediate action, Wyclef encouraged people to "Give on the Go," sending in an automatic $5 donation via text message by simply texting, "YELE," to the number 501501.
"100% of the donations that are made are given directly to the charity and our goal is to raise $1 million per day for the sufferers of this catastrophe. We are delighted to be chosen by Wyclef as the exclusive mobile donations provider for the Yele Haiti foundation," Matt Mckenna, president of Red Fish Media, revealed.
Article continues below advertisement
And with a estimated 3 million people affected by the catastrophic quake, other celebrities such as George Clooney, Giselle Bundchen, and many more are all lending a hand.
To help Wyclef's campaign, just text "YELE" to the phone number 501501 from any cellular phone.