NEWS
Wyclef Jean Spies on Jennifer Aniston?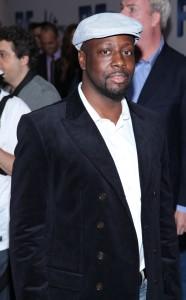 Wyclef Jean is widely known for his deep friendship with Angelina Jolie and Brad Pitt, so it is a shocker when I spot him on the blue carpet for Jennifer Aniston's premiere of her Lifetime original movie Five held Monday at Skylight Soho in NYC.
Even more shocking? He tells me he's firmly Team Jolie!
First, though, he assures me he's a big Jen Aniston fan. (She directed one of the short films about breast cancer.)
Article continues below advertisement
"I like the vibe, the personality, the energy, the honesty. I'm all about the pure, when someone just can be themselves."
What's his relationship like with Jen?
"With me, the whole industry's my friend. It's all love."
He hasn't met her boyfriend Justin Thoreux, but looks forward to meeting him tonight.
"Of course," he says. "I'm going to meet everybody."
So, is he Team Aniston or Team Jolie?
"Oh, I'm definitely Team Jolie," he tells me.
Why?
"I can't say," he says with a laugh, and dashes inside the venue to see Jen.
Jennifer Aniston executive produced and directed a package of breast cancer awareness short films called Five, which air on Lifetime October 10.