NEWS
Wynonna Judd's Kids Enjoy Time With Grandma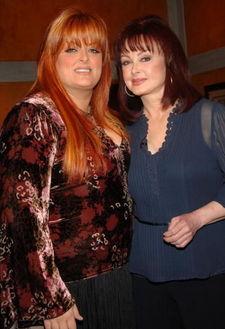 Wynonna Judd celebrated her 44th birthday Friday. Sister Ashley and mom Naomi were there to blow out the candles along with Wy's two kids Elijah, 13, and Grace, 11. Naomi says her grandchildren bring her great joy.
What's the most rewarding thing about being a grandmother?
"I guess just feeling grateful that I let Wynonna live," Naomi laughs. "She is not the easiest kid to raise, and I obviously did it by myself."
Article continues below advertisement
They get lots of time with grandma.
"Wynonna and her two kids, Elijah and Grace, live over the hill behind me and they come over through the woods on their four-wheelers to see Mamaw all the time. They know where the key is hidden."
"The other day, Elijah and Grace came over on their four-wheelers through the woods, and I was almost late to the airport because I stopped to make them hot chocolate. It's that moment where you're completely present with them."
"We rescued a dog named Maudie — and we're just playing in the grass with Maudie, Elijah and Grace, and when I got to the airport, I was almost late. The guy there knows me, and said, 'You have never been late in 20 years.' And I said, 'Life is more important than show business.'"
Will Elijah and Grace get into the biz?
"No, not in today's culture, absolutely not," Naomi says. "The culture is superficial and celebrities get rewarded for bad behavior. Our culture needs heroes and sheroes."