NEWS
'X Factor' Judge Simon Cowell Dishes to OK! on his Fascinating Dynamic with Paula Abdul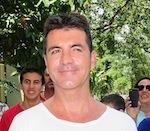 As Simon Cowell gets set to team up with Paula Abdul for the second time around on the X Factor's debut to the U.S. in September, fans wonder if the hilarious duo's dynamic will be the same as it was back on their days as panelists on American Idol. OK! sat down with the notoriously honest judge in L.A. on July 29, where Simon, who has left his American Idol days behind him, dished all about how Paula "fascinates" him and just why he asked her to come aboard his star-studded team again.
Article continues below advertisement
"It's that kind of unpredictability with her where you don't know if she'll be in a good mood or a bad mood and my god she wears her heart on her sleeve," Simon gushed to OK! at the London Hotel of why he couldn't wait to work with the "Forever Your Girl" singer once more, adding that Paula is, "hilarious to work with!"
OK! NEWS: SIMON ON PAULA ABDUL - "SHE'S IN LOVE WITH ME"
While the 51-year-old admits that Paula, "fascinates" him, it's the twosome's quirky, love-hate dynamic that seems to win over viewers. So will the pair be up to their same old comical tricks now that they are slated to judge together on a different show?
Simon explained to OK! that he and Paula's energy will never change as she "has this ability to forget she's being filmed. So when she argues with me, it's as if she's in my house, screaming at me, and then she kind of remembers she's on TV again. I've never worked with anyone like her before."
Simon and Paula, 49, are usually the ones butting heads at the judge's table, but with music producer L.A. Reid and Killer Love artist Nicole Scherzinger also on the X Factor panel, there is bound to be even more back and forth between the cast.
Article continues below advertisement
OK! NEWS: PAULA ABDUL CONFIRMS X FACTOR JUDGING SPOT NEXT TO PAL SIMON COWELL
"I call Nicole 'Sylvester' after Sylvester the Cat and I call Paula 'Tom,'" Simon joked to OK! of Paula's amusing cat and mouse relationship with the former Pussycat Dolls band member, "And Sylvester and Tom get their claws into some of the contestants and me and L.A. fight to keep these girls in."
With the judges in place like a well-oiled machine for the X Factor, Simon admits that even though his days on American Idol were "great", he won't be returning to the show...ever!
"Never. Honestly never," the England native told OK! at the X Factor Press Day of not going back to AI, "I like what it did for me. Without that I wouldn't be having this conversation today and I certainly wouldn't be doing X Factor. But then you get to a point where it's Groundhog Day. And you can't necessarily make the show you want to make."
OK! NEWS: CHERYL COLE GLAMS UP FOR THE FOX UPFRONT RED CARPET
Leaving the talent competition show to be gain more creative license, Simon has no hard feelings towards the continuing judges on American Idol, which included the likes of superstar Jennifer Lopez, rocker Steven Tyler and Randy Jackson last season.
"They're happy with what they're doing, I'm going to be happy with what I'm doing!"
FOX's X Factor, with host Steve Jones and competitive judges Simon Cowell, Paula Abdul, Nicole Scherzinger and L.A. Reid, premieres for the first time in the U.S. this September.