NEWS
'The X Factor' Judges Panel: Goodbye Cheryl Cole, Hello Nicole Scherzinger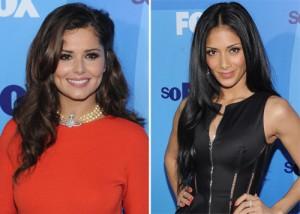 With Cheryl Cole axed from a judges' spot on the U.S. version of the hit British reality competition The X Factor, Simon Cowell had a place to fill. After much speculation, it has been confirmed that Nicole Scherzinger will replace the English singer on the highly-anticipated show.
Nicole has filled in for Cheryl as a guest judge on the U.K. version, Entertainment Tonight reports, and she will now be judging alongside Simon, Paula Abdul and Antonio L.A. Reid as they set out to discover the next big musical phenomenon — contestants vie for a $5 million recording contract on the show.
Article continues below advertisement
Cheryl was axed from The X Factor following reports that she lacked chemistry with fellow female judge, Paula. She was only a judge for a matter of weeks, but things apparently did not work out for the star.
It was also reported that her accent made it hard for contestants and viewers to understand her.
It remains unknown whether or not Cheryl will continue her role as judge on the U.K. version of the show.