NEWS
'The X Factor' Reveals Top 32 Contestants & Judges' Mentor Groups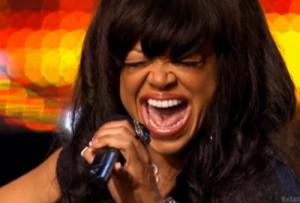 Dreams were made and crushed Thursday night on The X Factor as the judges limited the competition from 100 acts to 32. One of the contestants who the show followed from the beginning, Stacy Francis, has been through a lot but managed to triumph in the end.
Stacy, a 42-year-old mother who has just escaped an abusive relationship, stunned Simon Cowell the first time she performed Aretha Franklin's "(You Make Me Feel Like) A Natural Woman."
Article continues below advertisement
"I've been doing this for a long, long time, and that was one of the best auditions I have ever heard in my life," Simon, the toughest critic, gushed at the time. "You did more than sing it, you believed in it. Loved it. Loved it. Loved it."
But Stacy had a rough week during boot camp week, when she was told by Simon to tone it down a bit and learned of her father's death.
Last night she revealed that she'd missed her dad's funeral in order to stay in the competition.
Saying "I know he's with me tonight," Stacy delivered a chilling performance of "Summertime," which brought her safely to the next round.
Catch the complete list of finalists below! Do you think the judges are mentoring the right groups? Sound off below!
Article continues below advertisement
Girls: Simon Cowell
Melanie Amaro
Simone Battle
Rachel Crow
Drew Ryniewicz
Caitlin Koch
Jazzlyn Little
Tiah Tolliver
Tora Woloshin
Boys: L.A. Reid
Skyelar Anderson
Brian Bradley
Marcus Canty
Tim Cifers
Brennin Hunt
Phillip Lomax
Chris Rene
Nick Voss
Groups: Paul Abdul
2Squar'd
4Shore
The Anser
The Brewer Boys
Illusion Confusion
Stereo Hogzz
*Group (4 girls) created by judges
*Group (10 people) created by judges
Over-30s: Nicole Scherzinger
Leroy Bell
Tiger Budbill
Christa Collins
Stacy Francis
Elaine Gibbs
Dexter Haygood
James Kenney
Josh Krojcik
Catch Stacy's performance below!