NEWS
Young Hollywoodites Strut Their Stuff on the Red Carpet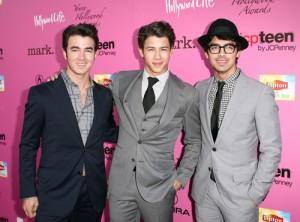 Oh, those Jonas Brothers, always looking like perfect gentlemen! Kevin, Nick and Joe Jonas showed other fresh young stars how the whole "celebrity" thing is done while they attended the 12th Annual Hollywood Awards held at The Ebell Theatre in L.A. last night. Pay attention, youngin's, you could learn at thing or two from these veterans!
Jessica Stroup, Cheryl Burke, Chad Ochocinco, Doug Reinhardt, Mario Lopez and others all strutted their stuff on the red carpet last night to celebrate the brightest new talent Hollywood has to offer.
Article continues below advertisement
Only Nick will be left without a better half by his side, admitting that, "It will definitely be a learning experience. It'll bring in a new dynamic having a new member of the family. We're ready for it ... Another year of touring with all its exciting new adventures."