NEWS
Young 'Lion King' Star Shannon Tavarez Loses Battle With Leukemia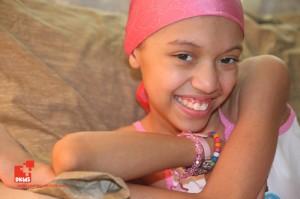 Shannon Tavarez, the young girl from Queens, N.Y., whose brave battle with leukemia and singing talent inspired an outpouring of support from Rihanna and other musicians — passed away yesterday at 11 years old.
The 11-year-old soprano played Young Nala in The Lion King on Broadway, and lost her fight against the disease after an umbilical cord transplant in late August failed to save her life, the Associated Press reports.
Article continues below advertisement
She died Monday afternoon at Cohen Children's Medical Center in New Hyde Park, Long Island.
"She was a remarkable and talented young lady who touched the lives of those she entertained, as well as those who cared for her over the past several months," the medical center said Tuesday in a statement, via the Huffington Post.
Just two months after starting a Broadway career as Young Nala in the Broadway Disney smash, Shannon was diagnosed with Acute Leukemia.
"When I found out, it hit me really hard, like someone was throwing a ball at me. It was shocking and I thought, why me?" Shannon said.
Her courageous battle received an outpouring of support from the the public and prompted more than 8,000 people from around the country to sign up as bone-marrow donors in a campaign in her name (see video below).
Article continues below advertisement
When no marrow match was found, Shannon was forced to seek alternate treatment.
Rihanna was a huge advocate for Shannon, encouraging everyone to become a donor.
"When I listened to Shannon's voice, I got really sad. Her voice is so beautiful. She should be performing on Broadway, but she is confined to her bed, fighting for her life," the singer said. "Shannon needs to find a bone marrow donor to survive. I urge all my fans to register with DKMS."
Rapper 50 Cent played a big part in the outpouring of offers to help beautiful young Shannon, making a YouTube video about getting his cheek swabbed to become a marrow donor.
Visit www.getswabbed.org for more information about DKMS and to learn more about registering as a bone marrow donor.