NEWS
Zac Efron Competes in a Bra Unhooking Contest With Jimmy Kimmel! But Who Wins?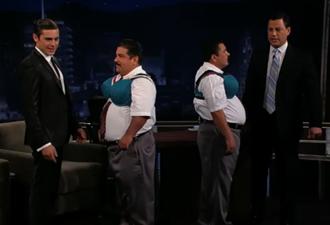 Article continues below advertisement
"I had a big poster of Tyra Banks on my wall. She was one of my first crushes," Zac admitted to Jimmy before sharing his biggest childhood crush — his babysitter!
"I had a crush on my babysitter growing up. She was amazing. Her name was Brooke," Zac confessed. "I think she was about to be in college and I was in third grade or fourth grade, something like that. I found her captivating."
"She used to work at the rec center where I went to daycare and I was there a lot, so I just fell I love with her the first time I saw her. She writes me letters... how often do you get hand-written letters?" Zac gushed. "I'm still trying to find her, wherever she is!"
MORE ON:
Jimmy Kimmel Live
OK! NEWS: ZAC EFRON GIVES A TUTORIAL ON HOW TO UNHOOK A BRA IN LESS THAN A SECOND!
This conversation leads perfectly into Jimmy's competition, where he brings out his buddy Guillermo Diaz and another assistant to pose as women and wear four bras, which Zac and Jimmy will unhook.
"These bras are a little bigger than any girl I've been with!" Zac joked.
"Just think of Brooke the babysitter and it will help you!" Jimmy snapped back.
Then, the race begins... but who wins? Watch to find out!