NEWS
Zac Efron, Cougar Bait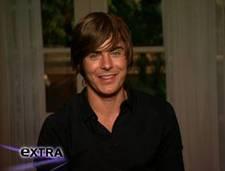 Bad news for Zac Efron's teenage fans — the hunky star would rather be spending time with your mom!
Speaking to Extra, the 17 Again star joked, "Moms are always fun to hang out with at premieres… I figured out where it's at... 40 is where it's at."
Of course, the one who should be worried about Zac's newfound penchant for cougars is gal-pal Vanessa Hudgens. Zac says he and the girlfriend share a love of going to the movies early in the morning. "We just don't go on a Friday night or Saturday night… It'll be like 9 a.m. on a Tuesday," he reveals.
Article continues below advertisement
MORE PICS OF ZAC:
MORE PICS OF ZAC: