NEWS
Zac Efron Not Going to Vanessa Hudgens Vegas Birthday Soiree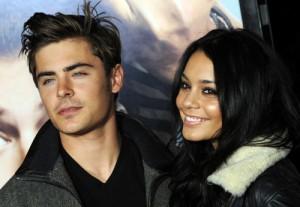 Looks like Zac Efron and Vanessa Hudgens are maintaining distance after their reported split. While neither party has confirmed the break-up, new reports are surfacing that Zac will not be at Vanessa's 22nd birthday bash this weekend at Las Vegas' Pure nightclub.
A source told HollywoodLife.com that Zac, 23, is "not expected" to celebrate this weekend with Vanessa.
Article continues below advertisement
Zac is currently filming The Lucky One in Louisiana, which may be the reason for his absence; however, the Zanessa we used to know would do anything to celebrate birthdays with one another.
Earlier this week E! News sources reported, Zac and Vanessa, who began dating while filming High School Musical, have just recently split up.
"It's nothing dramatic," a source explained of their split. "There's no third party involved."
The two are allegedly amicable.