NEWS
Zac & Vanessa's Valentine's Dinner Date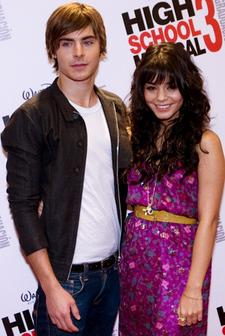 Ah, amore! You've gotta love the couple who prefers to spend Valentine's Day cozied up somewhere private and romantic, not posing for the paparazzi with gaping "you caught us!" stares (but we're not naming names!).
On Sunday night, Zac Efron and Vanessa Hudgens did just that, holing up inside the romantic restaurant Pace, where they celebrated Valentine's Day over dinner.
Celebuzz reports that the two Disney stars cuddled together at the Hollywood hideaway off Laurel Canyon Road, sharing good food and plenty of lovey-dovey conversation!
Article continues below advertisement
"They were very affectionate, holding hands," a fellow diner tells Celebuzz. "They chose to sit next to each other rather than across from each other."
Zac, who recently turned 21, had a glass of red wine and wore a casual red flannel shirt. Vanessa, 20, wore a dress.
Good to see these two still going strong!