NEWS
Zach Galifianakis Calls 'The Hangover 2' "Embarrassing"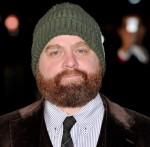 Filming for The Hangover 2 is underway and Zach Galifianakis has already been getting lots of attention for the film, but it's only going to get worse. Zach says the film is "embarrassing," which can only mean fans can expect has to see some funny scenes!
OK! GALLERY: DUE DATE DUDES SHOW OFF THEIR BABY IN NYC
"I think what's good with Todd Phillips director is he keeps surprising and shocking the audience," Zach said about via The Press Association. "We're doing the Hangover 2 and it's SO embarrassing. It's good, but I can't believe what we're filming. It's crazy."
Article continues below advertisement
And while Zach thinks it's crazy, his director thinks it's great.
"It's going great," Todd said. "We're in the middle of shooting it — we'll be done around Christmas. It comes out at the end of May in the States probably here too and we're really excited about it.
"We're going to make a movie that lives up to the first one I promise you that," he added.
OK! NEW: ZACH GALIFIANAKIS COMMENTS ON MEL GIBSON CONTROVERSY
And Todd and Zach had the pleasure of working on their current film, Due Date, together as well.
They even ganged up on Zach's co-star Robert Downey Jr.!
"Me and Zach just thought, 'Let's just find a really world class actor and let's just f*** with him.' "
The Hangover 2 is embarrassing for Zach and it sounds like Due Date was for RDJ. Looks like Todd is the ultimate winner!