NEWS
Zach Galifianakis Lights Up at Bill Maher's Table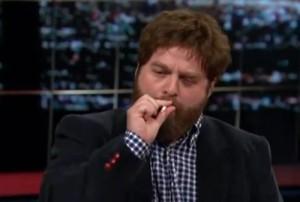 Getting Mel Gibson ousted from The Hangover 2 and promoting a new movie (Due Date) must have been a stressful experience for Zach Galifianakis. Maybe that is why he decided to kick back, relax and light one up while talking about the legalization of marijuana on HBO's Real Time with Bill Maher.
Zach and the HBO talk show host are proponents of legalizing marijuana, so maybe it isn't that surprising that Zach chose Bill's set as the place to smoke a joint during a round table discussion about decriminalizing marijuana.
Article continues below advertisement
"It's a tricky thing politically to jump on that bandwagon," Zach quipped before pulling a joint out of his coat and lighting up. "Because I think that maybe people still see it as taboo."
While it may have been a risky move on behalf of Zach, the stunt was well-received by the audience and even the conservative panelist, guest Margaret Hoover.