NEWS
Zachary Levi Has Andy Dick's Back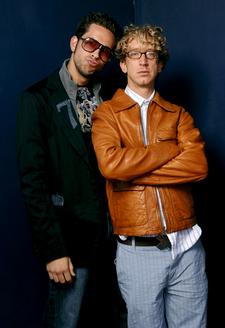 Zachary Levi's former co-star Andy Dick may be less than perfect—but the Chuck star is staunchly defending him after Andy's recent arrest.
The two starred together on the sitcom Less Than Perfect, and though the comedy ended two years ago, Zach's fondness and opinion of Andy hasn't, especially in light of his drug and sexual battery charges.
"I love Andy," the actor tells OK!. "I think that there are people that you meet in your life that when you get to know them, in your heart, you have a certain compassion for and you understand the things that they've gone through in their life and that must be incredibly difficult."
Article continues below advertisement
Last week, the comedian was charged with felony possession of narcotics, misdemeanor possession of marijuana and misdemeanor sexual battery after allegedly lifting a 17-year-old girl's top outside of a bar. Despite the indiscretions, Zach knows his friend is better than that.
"Sometimes, unfortunately, the things that they go through to cope with that don't bring out the best in the personality that you know is in them and the character that is in them, so it's unfortunate in that respect," he says.
The real Andy, according to Zach is a "comic genius," who "loves his t hree kids" and his colleagues.
"Unfortunately, in Hollywood, you get a lot of sycophants who see someone who is almost too open and too giving and too vulnerable and they leech onto that and I feel like Andy has had a lot of those people in his life and they don't help him," the 27-year-old says. "They continue to keep him in a place that's not healthy."