NEWS
Zoe Lister Jones Dishes on Her Hot Co-Stars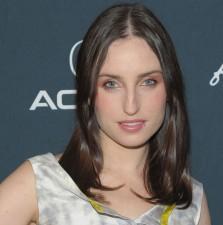 Actress, screenwriter, producer, singer and playwright Zoe Lister Jones has done it all — including working with Angelina Jolie — and she's only 27 years old! Zoe's new film might be titled Breaking Upwards, premiering today, but she tells OK! that she'd never be breaking up in any way with some of the attractive co-stars she's worked with!
OK! VIDEO: ANGELINA JOLIE'S ACTION-PACKED SALT TRAILER
Zoe might be young but has already written a movie, wrote and performed in the one-woman, 10-character show (Co-dependence is a Four Letter Word), released an album, produced a documentary and acted in dozens of movies and TV shows.
Article continues below advertisement
Along the way Zoe's had her fair share of attractive co-stars in the past couple years and she isn't too shy to admit it to OK!.
James Franco: "The dreamiest," she admits to OK!. "I'm terrible at word association because I'm from New York and I talk a lot, but my celebrity exceptions are James Franco and Ryan Gosling. I go back and forth on them both."
Ryan Gosling: "Beyond words. When I watch him act, I feel actual physical pain that I'm not in a long-term committed relationship with him. My boyfriend Daryl and I just went to Sundance because I had a film, Armless, in the festival and we saw Ryan Gosling because he was there promoting Blue Valentine and my boyfriend said if I could hook up with Ryan: 'I'll be sad but I'll totally understand. I'd probably hook up with him too.'"
Josh Lucas: "He I actually know because we have mutual friends."
Angelina Jolie: "I worked in Salt with Liev Schrieber so I didn't get to have any scenes with her, but she's out-of-control hot," she told OK! "She's so many things, but her face is out of this world."
Liev Schreiber: "So talented. I sound like a grandma, but he is. His versatility is so interesting."
Article continues below advertisement
So who is her dream co-star? Ryan Gosling, hands-down!
"I told my agents that if we are setting goals for this year, it's to have a love scene with Ryan Gosling," she confessed to OK!.
While she may be the more obsessed with Ryan, many people are jealous of acting work on the upcoming film Salt starring Angelina.
"I got to watch one of her stunts at the monitor because I shot a scene in the morning and she shot after and she's amazing," Zoe told OK!. "There's no one else like her. She's famously socially conscious, politically active, performs her own stunts and looks the way she does, it's so admirable."
OK! GALLERY: ANGELINA BRAVES THE COLD ON SALT SET IN NYC
Zoe says Angelina is also a daredevil and takes on the dangerous stunts herself!
"I'll write a soundtrack for a movie, but I won't be doing any of my own stunts. She doesn't show any fear at all. She flies planes!" she exclaimed. "I'm so the opposite. I have more Woody Allen in my blood than Angelina. I'll run to the hospital every week and she'll fly airplanes and jump on the roof of moving cars."
Article continues below advertisement
Salt isn't out until in May, but Zoe's other film Breaking Upwards is out April 2!
OK! GALLERY: ANGELINA JOLIE CONTINUES TO GET SALTY IN NYC
"I co-wrote it with my co-star Daryl Wein and also directed it with him and he also happens to be my real-life boyfriend and the story started out about us," Zoe explained of how the film came about.
"The movie is about a break up but in reality the break-up failed, which I know is rare, but we're still together," she explained to OK!. "Two years into our relationship we decided to strategize our own break-up and break-up together. We were doing this in real-life and realized it would make a good basis for a movie. Ultimately it didn't actually succeed in breaking us up, we ended up getting back together, but the film is fictionalized a bit so I'm not going to tell you how it ends."
Reporting By Jennifer Birn