NEWS
Zoe Saldana: I'm No Sex Tool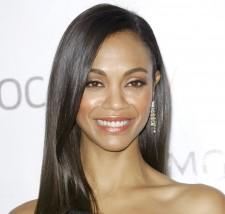 Star Trek star Zoe Saldana was inspired by Sigourney Weaver and Angelina Jolie to become the reigning queen of sci-fi movies but don't call her a sex symbol!
"I've always gravitated toward the Sigourney Weavers, the Linda Hamiltons, the Angelina Jolies," the New York-born actress tells Details magazine.
"I just love strong women that are in tune with their bodies — that don't just use their bodies as sex tools. I'm very dominant — feisty. I'm not a man-hater, just a very proud woman."
Article continues below advertisement
Already signed on to reprise her role as Lieutenant Uhura in the Star Trek sequel Zoe, 31, plays Neytiri in James Cameron's hotly anticipated CGI fantasy movie, Avatar, with Terminator Salvation hunk Sam Worthington.
"Motion capture isn't like shooting," Zoe explains about the high-tech filming process for the long-awaited movie.
"You're in a suit with all these dots on you, and whatever you do, they get it. Sam and I did all sorts of stupid s***. If you burp, your character burps. I'd shake my booty, and you'd see my character shaking her booty."