NEWS
Zooey Deschanel Dishes on her 'New Girl' Character; Says "Being Disingenuous" Is Biggest Mistake Men Can Make While Dating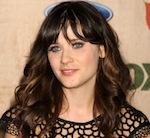 Playing the role of single women "finding her way" in her late 20s in a new series set to air this fall on FOX, actress Zooey Deschanel dished on her New Girl character's modern qualities and her take on dating do's and don'ts this week.
"I really love that she's totally herself," Zooey told reporters of her character on a conference call Wednesday afternoon, "Even though she's awkward at times and kind of nerdy at times, she's not afraid of being herself."
Article continues below advertisement
"From my perspective probably women are won over by people who are sweet and respectful and courteous and kind and funny," the L.A. native gushed.
OK! NEWS: PAUL RUDD'S RIDICULOUS LOOK FOR OUR IDIOT BROTHER
But, what about the biggest mistake that a man could make while courting a single woman such as Zooey's New Girl character?
"I think being disingenuous," Zooey told reports of how a man should not act, "I think that the mistakes that anyone can make going on dates is probably not being themselves because you can only trick people for so long."