NEWS
Zooey Deschanel: I Still Feel Like "An Outsider" at Fancy Events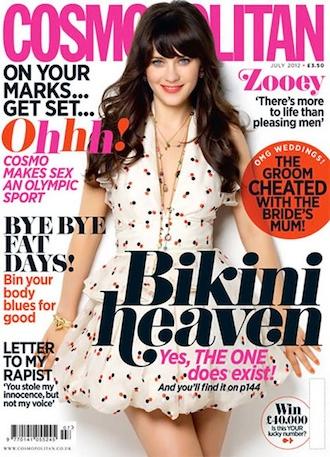 Everyone's favorite prime-time goofball, Zooey Deschanel, wears her normal brand of punchy vintage dress on the July cover of Cosmopolitan UK.
If you're asking yourself: "Why does Zooey always wear a '50s-era dress?" Well, it's because she thinks of her body as "old-fashioned."
OK! GALLERIES: ZOOEY DESCHANEL IS ADORABLE ON THE SET OF THE NEW GIRL ON L.A.
"I don't really have any rules, but I do believe in wearing stuff that flatters my shape. I have an old-fashioned body because I'm small, and I have a little waist but I have hips — I'm not, like, straight up and down," she told the magazine. "Things with shape look best on me; that's why I love vintage dresses…. I don't like to limit myself. Anything that I would love to wear, I wear!"
Article continues below advertisement
While Zooey might be steadily climbing to the A-list, she insists the status still feels foreign.
"I've always felt like an outsider and I still do when I go to fancy events. I still sit there and think, 'I don't belong here.' I feel like a kid at the adults' table — like I'm an outsider who got let inside somehow," she said.
Refreshingly, the actress and singer feels "removed" from the "glitz and glamour" of the business and takes all Hollywood's parties and events with "a large grain of salt.
"I feel very removed from it. Not in a bad way — it's cool — I just don't feel a part of it."
OK! NEWS: ZOOEY DESCHANEL'S NEW GIRL RENEWED FOR A SECOND SEASON
She also tells the mag there's more to life than appealing to men, and women should eschew cattiness and "stick together" because "we need each other.
"I have a strange sort of combination of awkwardness and confidence," she says. "But it's not because I think I'm so great. I'm confident in things other than, like, my 'swagger.' I'm confident in my sense of humor. I'm comfortable in my skin."