NEWS
Zooey Deschanel Loves 'New Girl': 'Don't Know If I've Ever Read a Role This Good for Myself'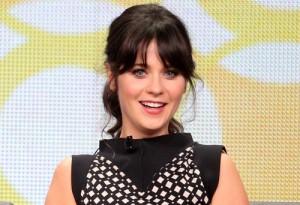 Zooey Deschanel is in love with her role in the new Fox comedy New Girl, but she's not exactly ready to receive any compliments on just how cute she is in it!
OK! NEWS: ZOOEY DESCHANEL FIGHT BACK; SLAMS WRITER FOR CALLING HER A "SNOBBY COW"
While Zooey's considered a pretty big draw at the movies, she says she's never connected to any project the way she has with New Girl. " I don't know if I've ever seen a part as charming and as exciting," Zooey told reporters at the 2011 Summer TCA Tour (via E! News). "Literally reading the pilot script, I was laughing out loud. Every time we rehearse, I have such a great time. The material is so great. I have so much fun."
Article continues below advertisement
And Zooey really hopes the show will be a hit.
"The thought of doing it for a long time is really exciting to me," she added. "I don't know if I've ever read a role this good for myself."
OK! VIDEO: ZOOEY DESCHANEL & BEN GIBBARD SOUND OFF AT THE OLD BALL GAME
And after you watch the promo for the show, you might be tempted to call Zooey adorable — but don't!
"My mom told me when I get compliments to cover my ears," she said when a reporter called her adorable. "I'm so embarrassed now. I don't know if I'm adorable. I'm flustered. Thank you. I don't think of myself that way, but I will take the compliment."
Will you be watching Zooey's new show?
Watch the promo for New Girl, below!