NEWS
Zooey Deschanel Was Bullied as a Kid: 'Girls Spit in My Face' at School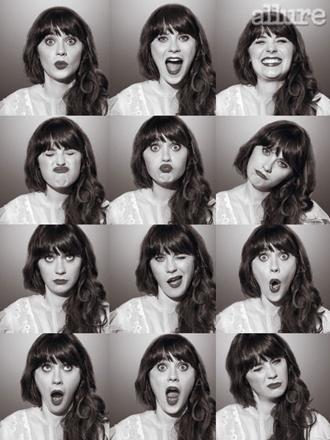 Zooey Deschanel may be "Miss Popularity" nowadays, but when she was growing up, it was a totally different story. The New Girl star, who says she's always felt like "an outsider," confesses that in middle school and high school, other kids used to torment her.
OK! GALLERY: TOP FEMALE FASHIONS AT THE 2012 GOLDEN GLOBE AWARDS
"Girls spit in my face," Zooey tells the February issue of Allure. "People were so mean to me. I'd cry every day." And surprisingly, nothing changed after she graduated and went off to college.
Article continues below advertisement
"I went to Northwestern because I had gone to a really nontraditional high school. I was like, 'It'd be cool to have a traditional college experience,'" Zooey explains. "Then I was like, 'Oh, but none of these people understand what's cool about me. My specialness is not appreciated in this place.'"
And now, her "specialness" is exactly what's appreciated in Hollywood. From New Girl to her roles in Elf and (500) Days of Summer, Zooey is an "It Girl," even if she refuses to believe it.
OK! NEWS: ZOOEY DESCHANEL SPORTS A FUNKY MANICURE ON THE RED CARPET OF THE GOLDEN GLOBES!
"'It Girl' is supposed to be something that only lasts a certain amount of time," Zooey says. "They keep calling me an 'It Girl,' and at this point it makes me laugh, because I've done that so many times: 'You're it;' 'You're not it.' What is 'it'?"
Well, whatever it is, Zooey has it.
"I've always straddled a weird line — there's a lot of mainstream stuff that I love," Zooey adds. "At the same, I still feel like an outsider. I'm the outsider who's on the inside."
And that's the reason we love her!