Aaron Hernandez's Former Jail Lover Kyle Kennedy Caught On Camera With Drugs Hours Before Arrest: Photos
Hours before his arrest earlier this week, Aaron Hernandez's former inmate and close confidant Kyle Kennedy — who claimed to be the convicted murderer's jailhouse lover — reportedly flaunted drugs on social media.
Article continues below advertisement
The 26-year-old was seen holding up a big bag of marijuana on his Instagram Story, as he stood on the driver's side of a Jeep Wrangler, in exclusive photos obtained by Radar. He appeared to then try and hawk the weed on camera and told his followers that "nobody has this."
Article continues below advertisement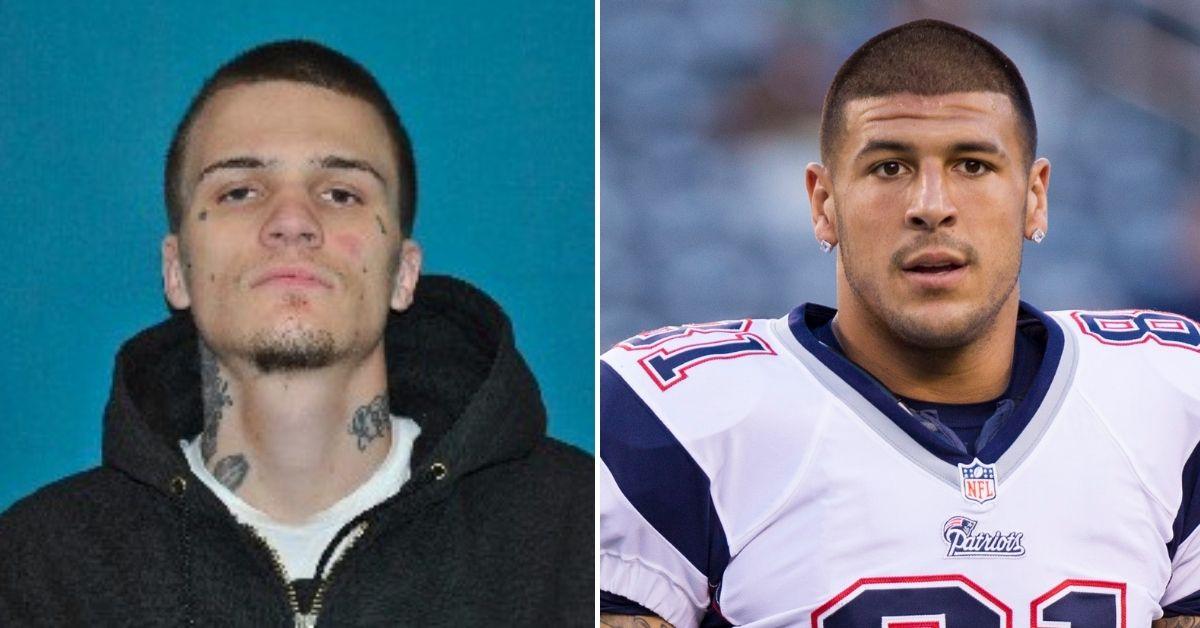 Kennedy informed his friends in Rhode Island, Massachusetts, New York and Connecticut of the prices, saying it was $9,000 for 20 pounds, $5,000 for 10, or $3,000 for five.
Article continues below advertisement
He was arrested on Monday, April 5, for an outstanding warrant in Northridge, Mass., the Worcester County Sheriff's Department confirmed, but no details on criminal charges have been released. As previously reported by OK!, Kennedy spent the morning of his arrest in police custody before he was moved to the district court for the afternoon.
Kennedy served time with the late NFL player in Soucza-Baranowski Correctional Center in Shirley, Mass., and claimed that they did "everything together," which allegedly included taking and dealing drugs, though Hernandez's toxicology report came back clean after his death.
Article continues below advertisement
Hernandez was sentenced to life in prison for the murder of his fiancée's sister's boyfriend, Odin Lloyd, while Kennedy was in jail for armed robbery.
Article continues below advertisement
Kennedy said in a REELZ doc that the alleged jailhouse lovers would "lock in to either cook food or smoke, get high, listen to music, just chill when we didn't want to be around other people… We used to write letters back and forth to each other all day."
"I just wanted to tell you this morning that I love you. You never have to question us. I will stop questioning you and us. I realized through our thing over the past few days how much I love you and how much I want you and us," Hernandez wrote to Kennedy, according to Aaron Hernandez's Killing Fields by investigative journalist and author Dylan Howard.
Article continues below advertisement
"You told me you didn't want to be on the block anymore," the alleged letter continued. "Did you really mean that? I mean, I've said way worse, so I understand, but still, it made me almost hang myself. I can't even imagine them separating us."
Article continues below advertisement
Meanwhile, former New England Patriot teammate Rob Gronkowski broke his silence after almost four years since Hernandez's death in 2017 and said he was "shook" when he heard the news of the football player's arrest in 2013. "Being his teammate and everything, you really don't see that. You're not really looking into players like that's who they are or that's what they're doing," he admitted on Spotify's "10 Questions With Kyle Brandt" podcast last month.
When talking about his teammate, Gronkowski added, "Overall, I just try to keep it simple and light. He was a great football player, but that does not mean anything. But you learn from other people too."