COUPLES
Adam Rippon Reveals Plans To 'Put On Nice Shirt, Go To The Courthouse' For Wedding With Finnish Fiancé Jussi-Pekka Kajaala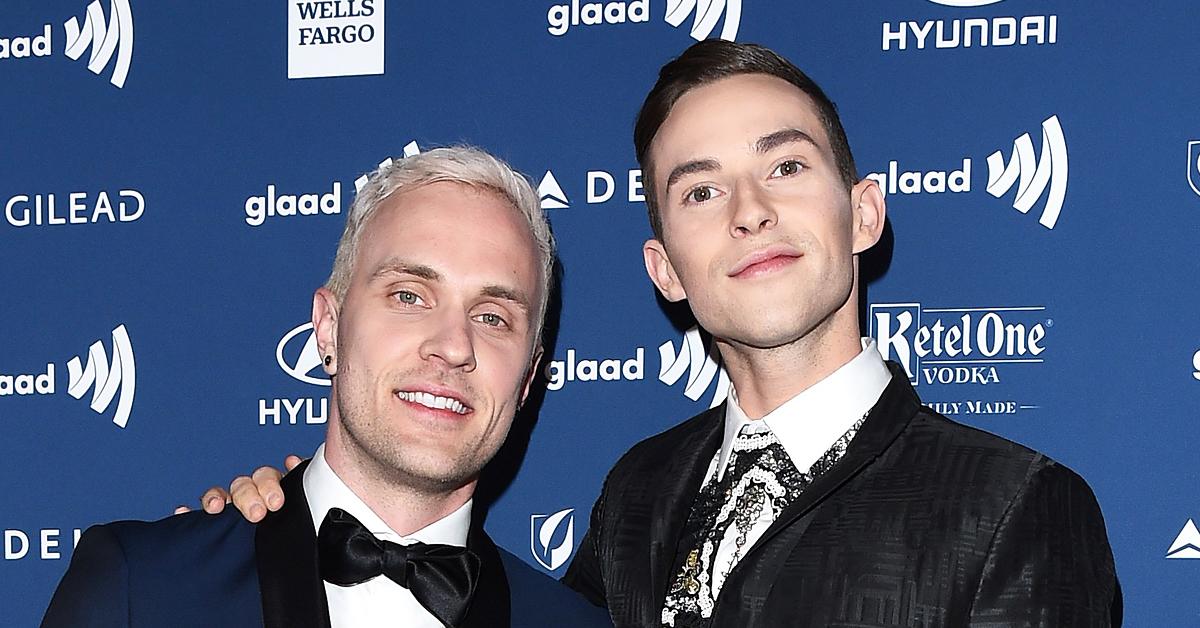 Ready to tie the knot! Adam Rippon made an appearance on the "Cup of Joe" podcast, hosted by Joe Drake, this week and spilled some details about his upcoming wedding. 
Article continues below advertisement
Drake got the conversation started after noticing some new bling on the newly engaged, former competitive figure skater's hand.
"Yeah, I got engaged. I guess a few months ago," Rippon confirmed, adding that having the new title of "fiancé" "feels exactly like not being engaged, only with jewelry." 
Article continues below advertisement
His ring, which came from Finland, has significant meaning to 31-year-old as his husband-to-be, Jussi-Pekka "JP" Kajaala, is Finnish. 
Article continues below advertisement
On the podcast, the Olympian shared how the two's love story came about, having been together long distance for three years. The COVID-19 pandemic, and subsequent travel restrictions, brought on a whole new set of challenges for the couple, with Rippon based in Los Angeles and Kajaala in Finland. 
The Dancing With The Stars alum revealed that due to lockdowns, he went over a year without seeing his then-boyfriend.
Article continues below advertisement
Article continues below advertisement
As Rippon and Kajaala waited to be reunited, the two discussed taking the next step in their relationship, which included filing out some paperwork made famous by a certain reality show. 
"We applied for the K1 visa, which is the 90 Day Fiancé experience visa, because it takes many many months," Rippon said. 
Article continues below advertisement
Once borders opened, the former athlete told Drake that he flew to Finland and spent three months living abroad with his man. He admitted it wasn't long before the two were picking out weddings bands and came to the agreement to "plan" their proposals.
Asking if the proposals, which took place in December, were planned together or just a coincidence that they happened at the same time, Rippon confirmed that there were no surprises involved, which took the pressure off.
Article continues below advertisement
"No we planned," he explained, "I would have had a panic anxiety attack. I would have been in the hospital."
Article continues below advertisement
With the couple's families scatteres all around the world, Rippon, who is currently developing a figure skating comedy series, revealed the grooms are planning to enjoy a casual wedding. 
Article continues below advertisement
"We are going to put on a nice shirt, go to the courthouse and do it that way," he told Drake, adding that couple will celebrate their new marriage by visiting friends and family intimately. 
While Rippon and Kajaala plan to spend a majority of their time in the states, Rippon let it spill that his partner is building a cabin for the two of them in Finland, in what Drake described as the "perfect gay dream."
Article continues below advertisement
Article continues below advertisement
Back in February, Rippon made the engagement announcement, making sure to cover all his social media bases with posts on both Twitter and Instagram. Alongside a carousel of pictures of the happy couple (and one of their gorgeous gold engagement bands), Rippon detailed the fairytale proposals.
"JP and I didn't get to see each other for almost all of 2020 because of pandemic," he began. "When there was finally a chance for me to go and see him in Finland, I jumped at it. I was there for a little over two months. While I was there I would tell him about five million jokes that I would want to pitch during 5 hour Zoom meetings for our NBC comedy." 
"He would drive me into the Finnish forest where I would attempt to try and 'help' him shovel snow so he could keep working on the cottage he's building," he continued. "In between all that and binging 4 seasons of The Crown, we bought ourselves some rings and said the magic word...'duh.' We got engaged."