NEWS
A$AP Rocky Says Former President Donald Trump 'Didn't Free' Him From A Swedish Prison — And Made Things 'A Little Worse'
A$AP Rocky is making it clear that, contrary to popular belief, Donald Trump didn't help him get out from behind bars. If fact, the rapper said, the former president did more harm than good.
Article continues below advertisement
In his Stockholm Syndrome documentary — directed by The Architects — the 32-year-old revisited his 2019 assault trial that stemmed from the rapper being involved in a street fight that occurred in Stockholm. The rapper, who was overseas on tour, was detained in a Swedish prison for a month.
Trump, 75, had been a vocal supporter of Rocky's at the time. "Many, many members of the African American community have called me — friends of mine — and said, 'Could you help?'" Trump can be heard saying in the film, per Rolling Stone. "So I personally don't know A$AP Rocky but I can tell you that he has tremendous support from the African American community in this country … I have been called by so many people asking me to help A$AP Rocky."
Article continues below advertisement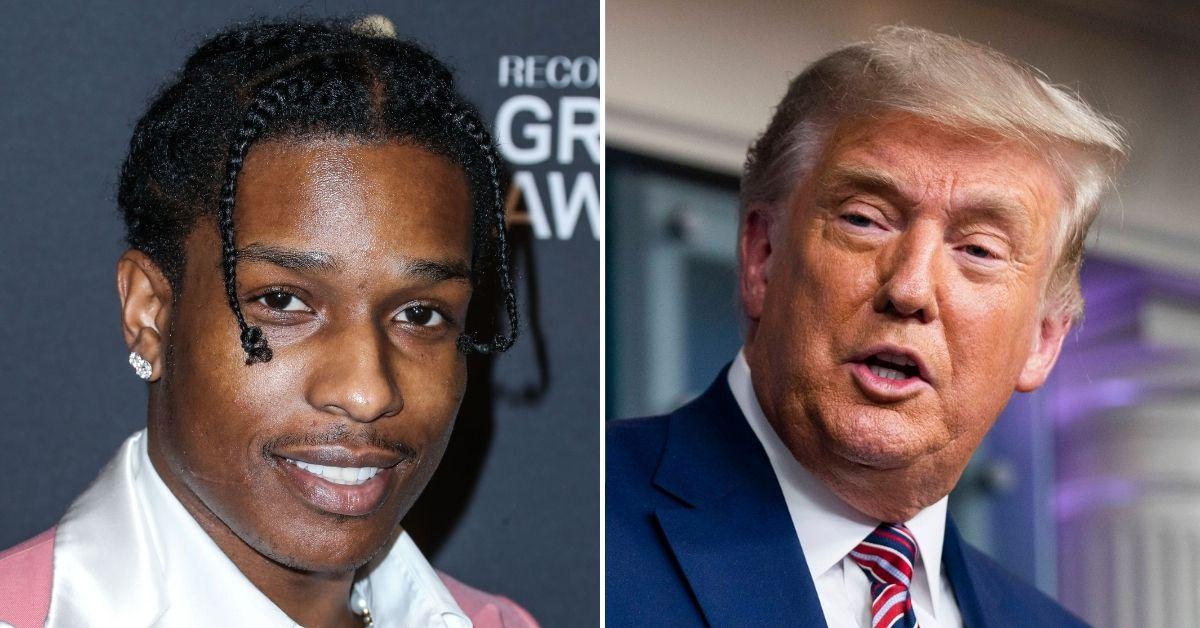 Article continues below advertisement
Kim Kardashian and estranged husband Kanye West had reportedly informed Trump of Rocky's predicament, but the "Fashion Killa" singer was "scared that Trump was going to f**k it up."
"But then on the other hand, I'm just like, 'That's what's up, man.' You want the most support you could [get] and it's like, 'Oh, the president supports you.' That felt good. 'Cause for the most part, I don't think he ever knows what's going on in the urban communities … I was thankful for that, I can't lie," Rocky — who was born Rakim Athelaston Mayers — said. "I was also scared that it would jeopardize me being in [jail] longer."
Article continues below advertisement
"It was a chess move and they tried to strong arm a lot. In reality, I had no problem saying thank you to the man, especially if he helped me. That's the narrative they pushin': That he got me out," Rocky added. "And he didn't free me. If anything, he made it a little worse."
Article continues below advertisement
In August 2019, a judge ordered Rocky be released from jail. He was eventually found guilty of assault, and ordered to pay damages to the victim.
"I just wanted to tell my story without really complaining or without, you know, seeming like a victim, or like I wanted a pity party or what not," he told Entertainment Tonight of the documentary at the film's premiere, held at the Tribeca Film Festival in New York on Sunday, June 13. "So, here it is."
Article continues below advertisement
His girlfriend Rihanna also supported the documentary. Rocky said it was "important having that support in real life" gushing, "It's amazing and I'm honestly truly blessed, for real."
Article continues below advertisement
Rocky has since returned to Sweden.
Article continues below advertisement
"Listen, I have a connection with Sweden," he told PEOPLE. "... the architecture, I like innovations — I love all of it all. So for me, fashion, art — it all correlates to me and my style and my taste preference personally, so that's why I am always going to continue to go back."
"We just wanted to show them they didn't put fear in our hearts and we will be returning to do positive things," he added.