ENTERTAINMENT
REVIEWS: What Critics Said About Barry Manilow & Bruce Sussman's 'Harmony' Off-Broadway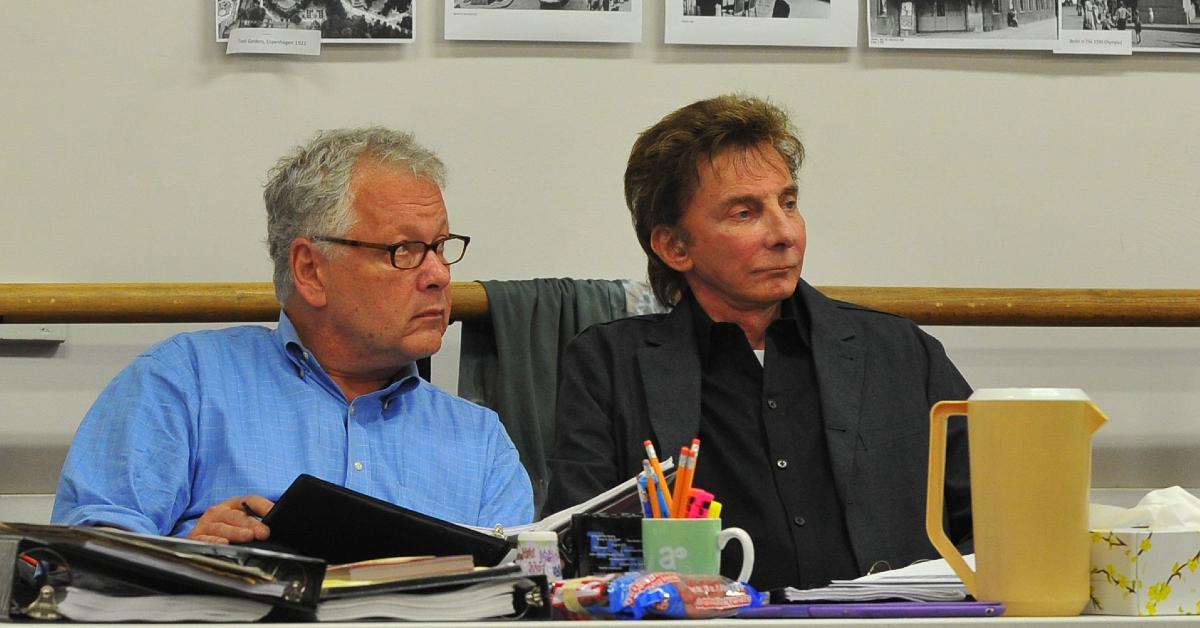 Harmony: A New Musical by Barry Manilow and Bruce Sussman tells the true story of the Comedian Harmonists, six talented young men, Jewish and gentile, who came together in 1920s Germany and took the world by storm with their signature blend of sophisticated close harmonies and uproarious stage antics.
The Comedian Harmonists they sold millions of records, starred in a dozen films and packed the houses of the most prestigious concert halls around the globe until the world they knew changed forever. Their incredible story inspired music industry legends, Barry Manilow and Bruce Sussman, to create a spectacular new musical with an original score that celebrates this extraordinary group of friends and ensures their quest for true harmony in the most discordant chapter of human history will never be forgotten.
Directing and choreographing Harmony will be Tony Award winner and Emmy-nominated Director Warren Carlyle.
This production is being produced in association with Ken Davenport, who most recently won a Tony for Best Revival of a Musical for Once on This Island and a Tony for Best Musical for Kinky Boots.
Article continues below advertisement
NEW YORK TIMES -- CRITIC'S PICK:
Epic.
Defiantly classic.
Those skeptical of the fact that the men behind "Copacabana" could tackle serious matters should perhaps listen closely.
Zien eventually leaves it all out on the stage in his heartbreaking last song.
In case you were wondering what it feels like to cry under a mask, there is a good chance you will find out then.
The show is in good hands with the director and choreographer Warren Carlyle
It is impossible to forget why we are watching the show.
VARIETY:
Sussman and Manilow's score for the show lends a contemporary flair to the joy, brotherhood, disappointment, disillusionment and guilt experienced by The Comedian Harmonists - and the women who loved them.
In particular, Manilow's memorable melodies are both cleverly married to the schlager-showtune-cabaret vibe of its time while still sounding as fresh as yesterday.
Whether through the Harmonists' song-driven routines- Manilow's pop prowess is ever-present.
Sussman, meanwhile, provides a crackling, cracking-wise script. Jokes about cantors' sons finally getting the opportunity to sing in major keys got huge laughs!
A vibrant, frenetic feel for present-day language in Sussman's texts.
Every element of "Harmony" clicks in place like a gorgeous puzzle.
"Harmony" feels like a mega-watt Broadway musical
It's a study in athleticism and theater magic.
This history lesson also demonstrates the power of making humanity sing, even in our darkest hours.
Article continues below advertisement
NEW YORK STAGE REVIEW:
The crackling-good, even inflammatory Harmony.
The Manilow-Sussman version is joyful and, in the end, profoundly moving.
Manilow and Sussman can easily provide a score in the tradition of outstanding Broadway contributions.
Only the extremely unaware observer won't be jarred by the frightening similarity of what's happening around the globe nowadays.
Get Harmony to the much-bigger time where it also belongs.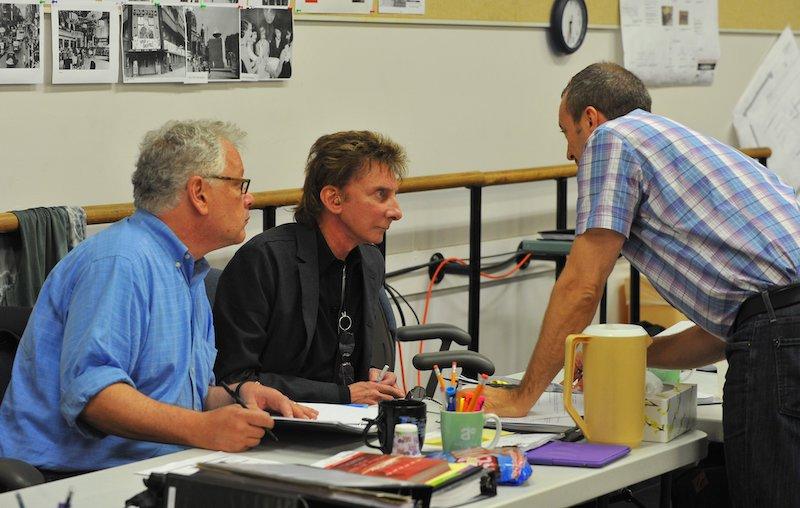 Article continues below advertisement
THEATREMANIA:
Harmony a musical by pop icon Barry Manilow (music and arrangements) and his frequent collaborator Bruce Sussman (book and lyrics) about the Comedian Harmonists, a world-famous singing group dissolved and erased from history by the Nazi regime because of its three Jewish members, proves that joy is worth a lot — first by delivering it in spades and then by showing the heartbreak rendered by its destruction.
Harmony's dichotomous DNA feels…well, harmonious.
As both choreographer and director, Carlyle's production draws out the show's winking charm and bubbling physicality not to offset the ultimately tragic storyline, but to harness that ancient Jewish aptitude for laughing through pain and entertaining through hardship.
Sussman's book feels authentic and specific.
And yet, the show's greatest triumph is its refusal to grab at the low-hanging fruit of sweeping moralizing and sanctimonious prognosticating. When you cut out all that fat, it turns out you're left with plenty of room for good old-fashioned entertainment — even in a story that dares to not have a fairytale ending.
NEW YORK DAILY NEWS:
Barry Manilow's stage musical 'Harmony' has long-lived promise
It's an arresting evening, all right.
You might think of "Harmony," structurally, as a cross between "Jersey Boys" and "The Sound of Music."
The numbers are rich and stylish and the story quite enveloping, especially given the familiarity of the genre of entertainment biographies.
Manilow and Sussman's inherent optimism as songwriters gives the show that freedom. It should grab it and find its way to Midtown.
Article continues below advertisement
NATIONAL REVIEW:
Sweet Harmony.
One of New York City's best theatrical offerings is so far off Broadway that it's almost in the water.
Chip Zien delivers one magic moment after another.
Manilow's rich score recalls the Jazz Age and the sounds of traditional Broadway productions.
Sussman's lyrics are often witty and sometimes deeply moving: The Harmonists lampoon Nazi ideology with this little gem: "If you are Anglo-Saxon, and your hair is flaxen, we want you to breed!"
JEWISH TELEGRAPH:
The final 10 minutes were probably the most emotional I have ever witnessed in a theatre.
When it is time to eulogise Barry Manilow -there may be a mention that he wrote the music for the incredible show, Harmony, set in the 1920s and 30s.Yet, this is actually his finest achievement and, once it makes it on to a bigger stage, could change the way people view him.
Let's not forget his co-creator Bruce Sussman, a veteran of writing musicals.
The amazing trick of Harmony is the way it lures you in with a funny and lighthearted first act before the tone takes a turn for the worse after the interval.
The first act is full of laughter and great routines, especially as the six make their debut at the Club Cinderella in 1929 supporting Marlene Dietrich, played by . . . well, I wouldn't want to ruin the surprise.
Thankfully Manilow and Sussman didn't decide to sugar-coat the finale.
While Zien stole the show, there was not one performer who failed to captivate.
As could be expected from Manilow and Sussman, the songs are also pretty special.
No matter how good the acting and story, it's the songs that move it to a new level . . . and Harmony truly delivers on that score.
After its month at the Jewish Museum, it would be good if it could move a couple of miles uptown to Broadway, where it deserves a big audience.
Even better would be if it moved over the Atlantic so British audiences could learn the story of this brave group of singers.
Article continues below advertisement
NEW YORK POST:
All of the singers are sensational. They all sing sublimely, together and apart, and are formidable yuksters.
While the musical's greatest asset is the sextet of musicians, the real lead is veteran actor Chip Zien playing Rabbi (and some other hilarious surprise characters) in old age. Zien is in excellent form.
NEW YORK THEATRE:
What's most extraordinary about "Harmony," though, is how little is in need of embellishment.
I don't know why it's taken 25 years for "Harmony" to make it to New York. All I can say is I'm glad I've gotten to see it, and I'd happily see it again.
"Harmony" is a moving story and a crowd-pleasing entertainment that echoes an impressive number of familiar glories.
Article continues below advertisement
QUEERTY:
Barry Manilow strikes a chord as 'Harmony' premieres Off-Broadway
It's impossible to watch Harmony, featuring Manilow's soaring melodies and exquisite arrangements, without feeling the very real impact of the current global crisis.
Danny Kornfeld taps into what has made Manilow a musical icon for more than 50 years — an unapologetic romanticism.
THEATRELY:
Historic HARMONY In Turbulent Times
Harmony, with music by Barry Manilow and book by longtime collaborator Bruce Sussman, touches on the hopeful truth at its best.
Manilow and Sussman's work to keep their legacies alive is admirable - through the classic art of telling an unsung story well. In this case, it's sung gorgeously, and six times over.
Article continues below advertisement
LIGHTING AND SOUND AMERICA:
You won't find a more ingratiating collection of talents in New York right now.
Longtime collaborators Sussman (book and lyrics) and Manilow (music), best-known for '70s-era hits like "Copacabana," are not pop stars slumming in musical theatre.
Harmony has a complex, full-bodied score that carries the tumultuous, crowded narrative across several years, keeping tabs on a broad gallery of characters.
Both creators have an innate grasp of musical storytelling.
It's a remarkable piece of writing that, in a single stroke, establishes key relationships, launches the Harmonists' career, and sketches in the era's social turmoil, which will have profound consequences for everyone.
Sussman's book maintains a firm grasp on the sprawling narrative.
It's a tale eminently worth telling - given the current political climate, it feels distressingly pertinent.
In its long trip to New York its power has grown exponentially. It deserves a much longer life.
TALKING BROADWAY:
Sussman artfully balances the historical backdrop and biographical elements while individualizing each group member.
The relationships are clearer and more convincing.
Manilow and Sussman's songs are excellent. Many of the songs, particularly for the show-within-the-show scenes, cleverly and satirically comment on the frightening circumstances in pre-War Europe.
Zien is given the eleven o'clock number, and it is a thrilling experience. Here is a musical theatre performer with decades of musical highs, and miraculously, he hits new heights in Harmony.
Article continues below advertisement
THEATRE SCENE:
Manilow/Bruce Sussman musical about the Comedian Harmonists is still relevant and timely.
The score is very much in the Broadway theater tradition. In fact, The Sound of Music, Fiddler on the Roof, Cabaret and Merrily We Roll Along are either quoted or referred to in homage.
Harmony proves to be an entertaining and absorbing show.
The story of the Comedian Harmonists is one that should be more widely known, if for no other reason than as a cautionary tale in our time of rising totalitarian governments and short memories about the Holocaust.
THE FRONT ROW CENTER:
Harmony the true story of a sextet that gained international success in Germany in the 1920s and 30s, only to be all but fully erased from the history books by Nazi oppression, could not be more timely.
The show has so much to offer — a diversely talented cast, great music, gorgeous orchestrations played by an actual (small but mighty) orchestra, excellent choreography and a real commitment to telling an important story.
This is clearly a passion project for Manilow and Sussman, and for good reason.
Harmony is delightful and deeply moving. Manilow's music is classic musical theater, with lyrical melody and tight, complex harmony. HIs score could rival that of any other new musical on Broadway.
The musical numbers work wonders, including the extensive show opener which introduces us to the Comedian Harmonists, in all their smooth singing glory.
The narrative continues to open a window back in time, where we meet each Harmonist at his audition. Their subsequent debut as a group, with its nod to Busby Berkeley, is hysterical.
The marionette song in Act II is terrific, hitting the sweet spot where bitter irony and humor meet.
Zien has great comic timing and a deep soul, which he willingly shares with us. His final song is devastating.
Article continues below advertisement
THEATRE LIFE:
Warren Carlyle's inventive staging combines with the clever, moving score by pop icon Barry Manilow and Bruce Sussman to create new reactions to the oft-told tale of genocidal horror.
The character songs feature lush haunting melodies by Manilow and some smart lyrics by Sussman.
Harmony is a strangely beautiful and sad production.
OFF OFF ONLINE:
Fiddler on the Roof, Cabaret and The Sound of Music each serve up friendship and love in the face of vanishing personal freedoms. There are echoes of all three shows in Harmony.
Zien delivers a stunning soliloquy.
Article continues below advertisement
NEW YORK THEATRE GUIDE:
'Harmony' review — comedy and sorrow in near-perfect harmony.
The Comedian Harmonists got the "comedian" part of their name from performing onstage antics, and the songs that recreate these performances are the undisputed highlights of Harmony.
Harmony hits all the right notes.
THEATRE REVIEWS:
Manilow fans…will be pleasantly surprised by the valid musical theater score he has composed.
Mr. Sussman's lyrics fuel the group's comedic genre but also capture the tension in the emotional scenes.
The book has the task of covering a lot of territory in the two and a half hour time frame of the show but rises to the occasion.
Broadway veteran Chip Zien who inhabits the role of the aged "Rabbi" acting as narrator. It is a tour de force performance which is highlighted by his tense and dramatic solo musical number "Threnody."
The show is entertaining, informative, and delivers an important piece of history about a successful musical group that would otherwise be forgotten.
Article continues below advertisement
THE FORWARD:
Both Sussman's lyrics and Manilow's score shine in the interwar idiom of swoony movie musical love songs and jazz-inflected comedy.
DAN'S PAPER/ AM NEW YORK:
To see Barry Manilow new show "Harmony: A New Musical," which he wrote with his longtime collaborator Bruce Sussman, was a moment I cherished.
We can all be grateful that the talented team never gave up their dream of producing the show.
They have another smash hit with "Harmony."
Run, do not walk, to see the brilliant singers, actors and dancers in the carefully crafted show that tells the true tale of a group of talented young singers who became international stars singing harmony with a comic twist.
The fantastic cast of actors, singers and dancers is as talented as I've seen and makes the show one that you don't want to miss!
I was enthralled by veteran actor Chip Zien, the talented narrator of the story, who brought me to tears during his last song.
The sold-out audience stopped the show multiple times with their applause and standing ovations.
The story made me laugh, cry and cheer for the performers, who dazzled me with their outstanding voices, stellar acting and energetic choreography.
We owe Barry and Bruce a "thank you" for their commitment in staying with this story.
It is a performance not to be missed!
Article continues below advertisement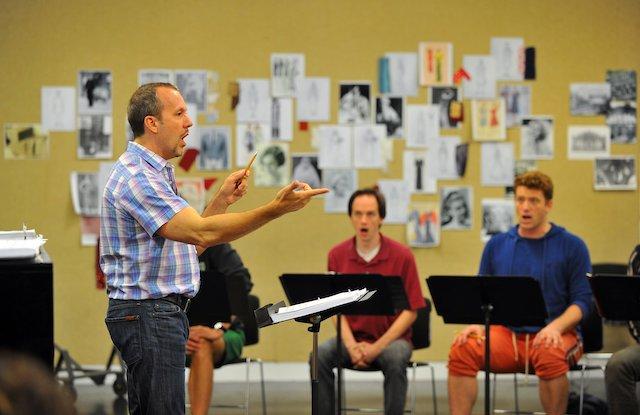 SUSSDEUTSCHE ZEITUNG (second largest paper in Germany):
Zien is brilliant. The six men in the band form a fantastic ensemble.
HARMONY has a well-told story.
As a spectator you sit in the hall like in a horror film in which you want to call out to the protagonists: "Don't go through that door!" because you know what horror lurks behind it.
The light above each of the singers gradually dims as the narrator reports when each one died…this dying light sequence is deeply moving, both because it represents how Jewish art first disappeared from Germany and because it also represents the genocide that followed. It was evident in these final minutes of the play that many people in the New York auditorium shed at least one tear from under their masks. When has a musical ever dared to send the audience home with such emotions?
Article continues below advertisement
THIS WEEK IN NEW YORK:
Today it (Harmony) feels oddly prescient as dictators and the far right gain power around the world and so many oppressed people become refugees as they try to escape bad situations that are only getting worse.
Chip Zien gives a bravura performance as Rabbi Josef Roman Cykowski.
DC THEATRE ARTS:
A timely reminder of the personal toll taken by unimpeded hatred and bigotry and the timeless need to take a stand against encroaching atrocities before it's too late.
The show and its large cast deliver the rich six-part vocals and physical comedy for which the group was known, along with the entertaining mix of old-fashioned humor, youthful high energy, and serious pathos.
Manilow's score features a mood-appropriate variety of styles, from the sextet's central harmonies and vocal imitations of musical instruments to romantic ballads and traditional Jewish threnodies.
Harmony provides a universal reminder to stop the rampant hatred and violence and to enjoy the beauty and creativity of the arts and entertainment together in consonance. It's a great experience and a great message.
Article continues below advertisement
TIMES SQUARE CHRONICLE:
Now thanks to Harmony: A New Musical, written by the legendary Barry Manilow and his longtime collaborator Bruce Sussman their (The Comedian Harmonists) story lives again.
From the moment the show starts and the exquisite harmony begins, you can feel you are in for something special.
I normally do not read my playbill until I review, but the direction was so powerful I had to know who directed. His direction is brimming with heart and soul. His choreography for "How Can I Serve You, Madame?" and "Come to the Fatherland" is ingenious.
The music by Barry Manilow and lyrics by Bruce Sussman is musical theatre nirvana.
Sublime, complex and satisfying.
This is like the scores that seem forgotten, that made me fall in love with musicals. I can see "This Is Our Time," "Every Single Day," and "Stars In The Night" being sung for years.
Don't go expecting typical Barry Manilow's hits — this is something much more.
Chip Zein should be seeing some award love, for the multiple roles he embodies. His song "Threnody" is a tour de force.
THEATRE IS EASY:
Songwriting team Barry Manilow and Bruce Sussman craft a toe-tapping, heartbreaking, engrossing account of The Comedian Harmonists, the nearly forgotten singing superstars of the early 20th century. Traveling 180 degrees from the disco-era "Copacabana," Manilow and Bruce Sussman have packed the show with catchy and lovely numbers from the origins song "The Auditions" to the group's breakout "How Can I Serve You, Madame?" to the showstopper "We're Goin' Loco" as the Comedian Harmonists back Josephine Baker.
Director Warren Carlyle's outstanding choreography elevates the songs to an even higher caliber, particularly in the dazzling "Loco" and "Fatherland."
Nearly a century after they made music, the Comedian Harmonists are receiving a much-deserved spotlight and a renewed appreciation. And with the rise of anti-Semitic hate crimes both in New York City and around the country, Harmony arrives at a prescient moment.
Article continues below advertisement
THEATRE SCENE:
Harmony, the new musical by Barry Manilow (music) and Bruce Sussman (book and lyrics) strikes a beautiful, yet mournful chord.
They (The Comedian Hamonists) rub shoulders with Josephine Baker and Marlene Dietrich. They are hugely entertaining. They are popular worldwide. They are also doomed.
Directed by Warren Carlyle, (it) is staged with sensitivity and perfect pacing.
It is an extraordinary night in the theater. And the sextet is sensational; much like their real-life counterparts, their chemistry clicks.
In some 20 songs over 15 scenes, Manilow, long famed for his pop melodies, captures the period and the Harmonists' style with singular flair.
Sussman's lyrics run the gamut from humorous to sardonic to moving in the ballads. His book reveals a once-heralded troupe that deserves to be heard.
It's a must-see as a serious musical that does what all art should do: entertain, enlighten and, on occasion, enrage. Which is why, though the museum's size supplies an intimate experience, Harmony deserves an even bigger venue: Broadway.
STAGE AND CINEMA:
I can't remember the last time I have been so entranced with a new musical.
And while Harmony may be having its New York premiere in the Off-Broadway house that brought us the Yiddish version ofFiddler on the Roof, I'll eat my kishkes if this winner doesn't go to Broadway.
ComposerBarry Manilow and librettist/lyricist Bruce Sussman's entertaining, surprisingly melancholic new musical depicts the real-life story of the all-male singing ensemble, the Comedian Harmonists.
Manilow's music is both reminiscent of this vocal group while being breathtakingly original for a musical.
Sussman's lyrics and uniquely structured book — crafted like a memory play — are entertaining and emotionally moving. He avoids false enthusiasm that most traditional musicals try to pass off as art, and instead focuses on the beauty to be found in honesty and realism, which rarely co-exists with musical theater.
Manilow's lovingly crafted score, a major draw, is a well-balanced mix of modern and period elements marked by his signature style.
Some numbers are fun and catchy, some are beautiful plays on traditional Hebrew music, and others are compelling torch songs.
I applaud Harmony as it captures the group's journey in two contrasting acts. The first is in an old-school styled, lushly produced Rogers and Hart-esque American musical full of hope, love, friendship, humor, catchy music, and a touch of slapstick (although devastation is foreshadowed throughout).
It's a bold choice to end a musical with a tear-shedding confessional, a risky move that had some people upset back in the eighties when Sondheim and Lapine's Into the Woods' second act left them devastated; and look how often that musical is produced now. But Harmony is about truth, and proudly reminds us how hatred and greed lead to horrible leaders (sound familiar?).
National treasure Chip Zien plays our narrator, Rabbi as an older man, with endearing warmth and boundless effervescence.
Seeing Danny Kornfield and Zien side by side as the Rabbis is a testament to Jamibeth Margolis's casting. Kornfield's amazing performance and wonderful voice are most memorable. As Lesh, Steven Telsey's on-point comedic timing and sweet, earnest charm make him an easy audience favorite. As Biberti, Sean Bell's powerful, deep-bellied bass adds rich consonance. Eric Peters can damn well sing all night in a solo show and I would be first in line — what a gorgeously strong tenor. As Chopin, Blake Roman gets one of the best ballads of the night, "In This World", and my god what a voice.Mathew Mucha filled in remarkably well (never doubt an understudy!).
I suppose Harmony may have its detractors — those who scoff, "I come to the theater to forget my troubles." Don't listen to them. It is so very easy to fall in love with this musical.
THE EPOCH TIMES:
One problem with ensemble pieces is that some of the characters can get lost in the shuffle. Fortunately, that is not the case here, as each of the Harmonists have their own distinctive personality. We care about what happens to them.
"Harmony" powerfully brings to life a story about a once-acclaimed singing group whose members forged a bond of friendship that would never be broken, no matter the circumstances.
THEATRE CRITICISM:
This is not a show with quintessential Barry Manilow pop songs. Rather, it is a complicated, diverse and sweeping score of many different musical styles and tempos written by Manilow with superb lyrics by Sussman. The score is surprising in how truly seasoned it is.
The actors portraying the Comedian Harmonists display amazing vocal prowess in their skillful use of six-part harmonies, but to execute them while fully engaged in intricate dance moves on what is an extremely small stage is nothing short of awe-inspiring.
Kornfeld's exuberance and intensity makes this song (Every Single Day) a highlight of the show. The sweep of the song is simple, yet so powerful, the audience demands an ovation before the show can continue. There is no denying this is a Manilow tune worthy of consideration as a potential chart topper.
It is a joy to witness their exuberance as Sussman's story unfolds and Manilow's music carries them. The final number "Look To the Stars" suggests a defiance that will live on.
Look, look how they tease These stars in the night. The darker the night becomes The brighter their light becomes. Chill winds wail The tempest brews And clouds assail the sky Through the veil The stars refuse to die!