NEWS
'Am I Crazy To Post This?': Diane Von Furstenberg Shares Swimsuit Selfie At 74 — You Be The Judge!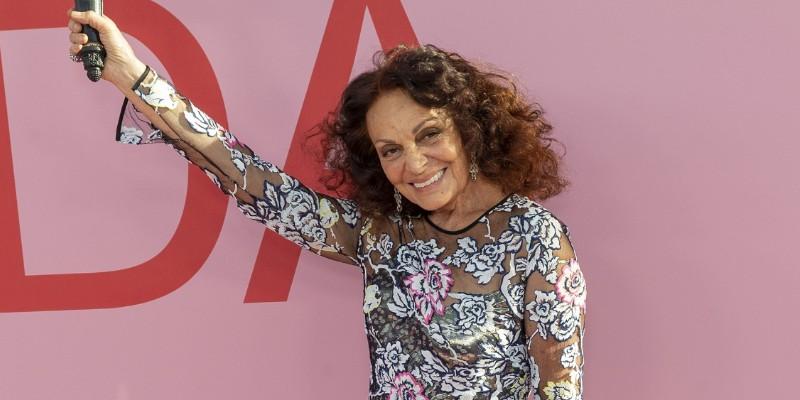 Diane Von Furstenberg may be firmly into her 70s, but she's proving that one is truly only as old as one feels. The 74-year-old fashion designer did something that women of all ages often feel self-conscious about: sharing a selfie in her bathing suit to social media!
What's more, she totally rocked the shot! "Am I crazy to post this?" she captioned the photo, which showed off her figure in a sleek, dark green one-piece, apparently fresh from taking a swim. "Own your age….it's a proof you have lived ! Love to everyone."
Article continues below advertisement
SUN'S OUT, BUN'S OUT: CELEBS HIT THE BEACH TO SOAK UP SUMMER
Von Furstenberg, a mother of two who's long been an advocate of women being able to do it all (and do it in groundbreakingly stylish clothing, including the iconic wrap dress she designed in the 1970s, which is still being worn to this day), won praise from her famous female friends of all ages for sharing the photo. "Beautiful," raved Kris Jenner, while actress Andie MacDowell pronounced the designer "Looking fantastic." Model Lily Aldridge praised her as "Crazy gorgeous!!!! Inside & out."
MORE ON:
Diane von Furstenberg
Article continues below advertisement
Von Furstenberg, who started her design career at 22, identifies as a lifelong feminist and has been candid about her success within a competitive industry at a time when women weren't represented in the field to the degree they are today. In a 2019 interview with the Female Founders Fund, she explained, "I want to be able to use my voice, my experience, my knowledge, and my connection, to make all women be the women they want to be," and added, "If you stay honest and if you accept your imperfections, they become your assets."
The fashion pioneer is continuing her feminist outreach into 2021 and doesn't seem to have any plans to retire. "I want to create a movement for women," she noted. "I'm writing a manifesto now, I have these ideas, I'm very excited about that. I like leadership, I don't even like the word leadership. I like 'inspirationship.'"