NEWS
Distilling Delta-8 — How Is Delta-8 THC Manufactured?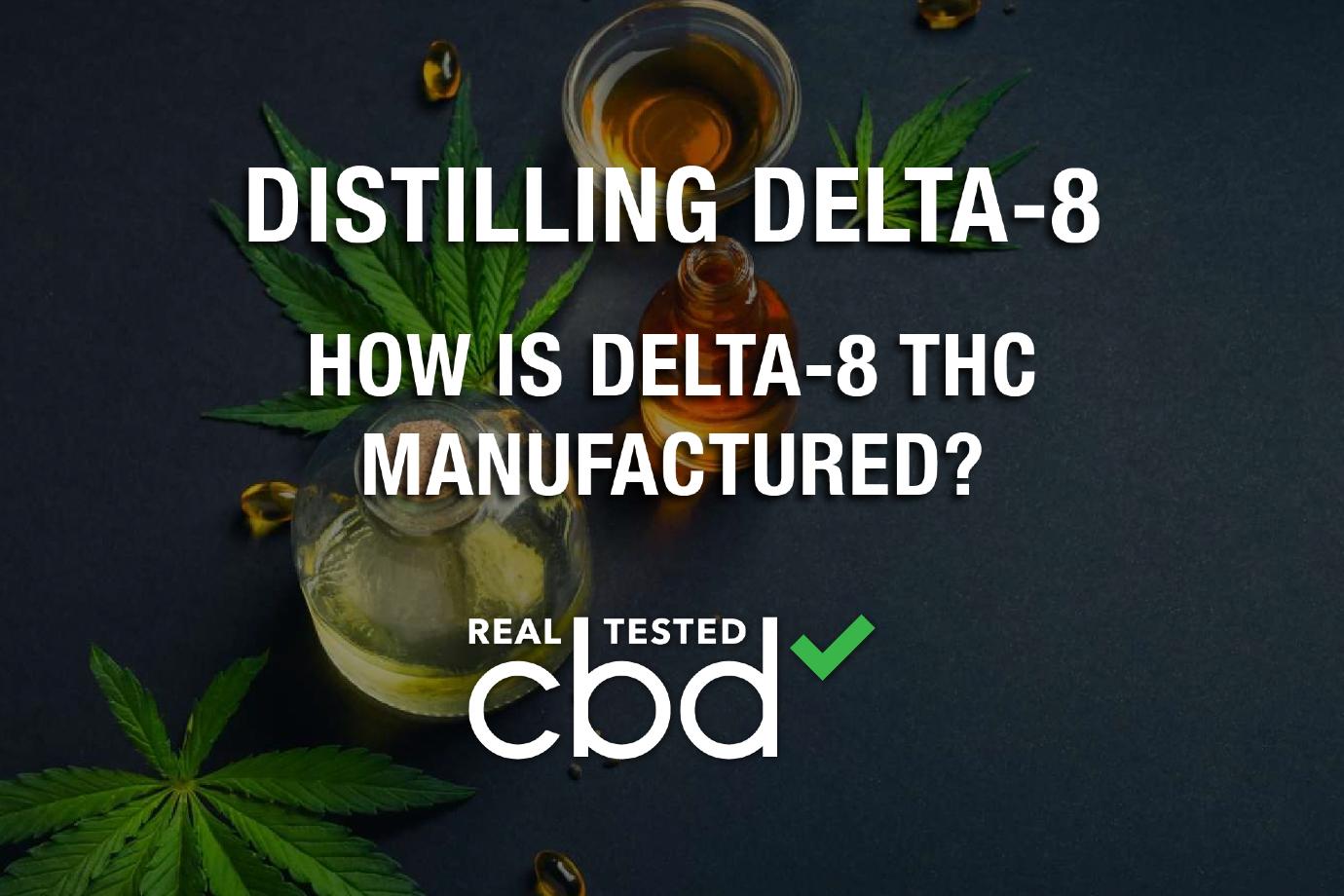 Despite its iffy legality (or perhaps because of it!), delta-8 THC has become the darling of the US hemp industry. Don't get us wrong; CBD is still on fire. However, it's getting harder for hemp customers to ignore the allure of "higher" potency delta-8 THC goodies.
Article continues below advertisement
Interestingly, the current delta-8 craze wouldn't exist without CBD. Not only did CBD draw attention to hemp flowers, it's the only reason extractors could legally create delta-8 in a lab setting.
Strangely, most of the delta-8 THC on today's market is technically modified CBD. Even though your delta-8 carts, edibles, and flowers won't feel the same as CBD, they owe their existence to hemp's most pronounced non-psychoactive cannabinoid.
Article continues below advertisement
Wait, So Is Delta-8 A Lab-Made Cannabinoid?
Article continues below advertisement
Most cannabis strains have some percentage of natural delta-8 THC. In fact, scientists have known of delta-8's existence since the 1940s.
Unfortunately, since the US banned hemp cultivation for much of the 20th century, scientists couldn't fully explore delta-8's properties. It may take a few decades before researchers fully understand delta-8's potential use cases.
Article continues below advertisement
While we don't know everything about delta-8's effects, it's clear this cannabinoid is a natural part of the hemp plant. Unlike controversial synthetic cannabinoids like Spice/K2 or THC-O Acetate, delta-8 THC is organic.
For this reason, many in the hemp community believe delta-8 doesn't fit the DEA's classification as a "synthetic tetrahydrocannabinol derivative." Under the DEA's current restrictions, some THC derivatives could fit the federal government's standards for marijuana.
Article continues below advertisement
Unfortunately, the legality of delta-8 isn't as clear-cut as hemp advocates claim. As it stands today, hemp-derived delta-8 is legal under the 2018 US Farm Bill, but it could be illegal at the state level.
Customers always need to check local regulations before purchasing a delta-8 product. It's also essential to obtain reputable third-party lab tests that prove delta-8 has legal delta-9 THC levels of ≤ 0.3 percent.
Article continues below advertisement
Even if your delta-8 THC comes from CBD, that doesn't necessarily mean it's legal in your home territory.
If Delta-8 Is Natural, Why Do Manufacturers Use CBD?
Article continues below advertisement
Since most hemp strains have some amount of delta-8 THC, it may seem strange that extractors choose to convert CBD molecules into delta-8. Why not skip a step and extract the delta-8 directly from hemp flowers?
Well, most hemp strains only have about one percent delta-8 THC. So, while it's possible to extract delta-8 from raw hemp, it's not cost-effective. It would take tons of hemp flowers to produce a small bottle of delta-8 oil. As you can imagine, this extraction strategy is time-consuming, wasteful, and unprofitable.
Article continues below advertisement
By contrast, CBD is the most abundant cannabinoid in hemp strains. Now that the 2018 US Farm Bill legalized hemp cultivation, it makes sense that extractors would want to use this accessible cannabinoid in delta-8 manufacturing.
How Do Technicians Transform CBD Into Delta-8?
Article continues below advertisement
After about one day of mechanically stirring this mixture, the acids will change CBD's chemical structure. Technicians then wash away solvent residue before testing their delta-8 THC's purity. Manufacturers could further purify their delta-8 extract until they're satisfied with the lab results.
Article continues below advertisement
While this process may sound unnatural, it's worth noting that hemp cannabinoids change throughout vegetation and flowering. Indeed, when researchers transform CBD into delta-8, they're mimicking the natural process of cannabinoid evolution.
Interestingly, CBD and THC are non-existent in young cannabis plants. The cannabinoid CBG-A converts into numerous other cannabinoids in the vegetative stage, including CBD-A and THC-A. Once these acidic compounds get heated up (aka "decarboxylated"), they transform into the CBD and THC we're more familiar with.
Article continues below advertisement
Since CBD and THC began life as CBG-A, they have similar chemical structures. This makes it even easier for lab technicians to convert CBD molecules into delta-8 THC.
Always Verify Reliable Hemp Sources Before Buying Delta-8!
Article continues below advertisement
Just because most delta-8 companies use CBD doesn't mean theyallstart with CBD. It's not unheard of for delta-8 factories to use delta-9 THC in their formulations. Of course, since delta-9 is federally illegal, many Americans could face steep penalties after buying these products.
As delta-8 becomes a larger segment of the hemp market, Real Tested CBD wants to help customers make an informed purchase. Please review our website for the latest unbiased reviews of the biggest brands in the delta-8 THC industry.