NEWS
Dr. Christopher Asandra Re-Defines Anti-Aging Through Cutting-Edge Therapies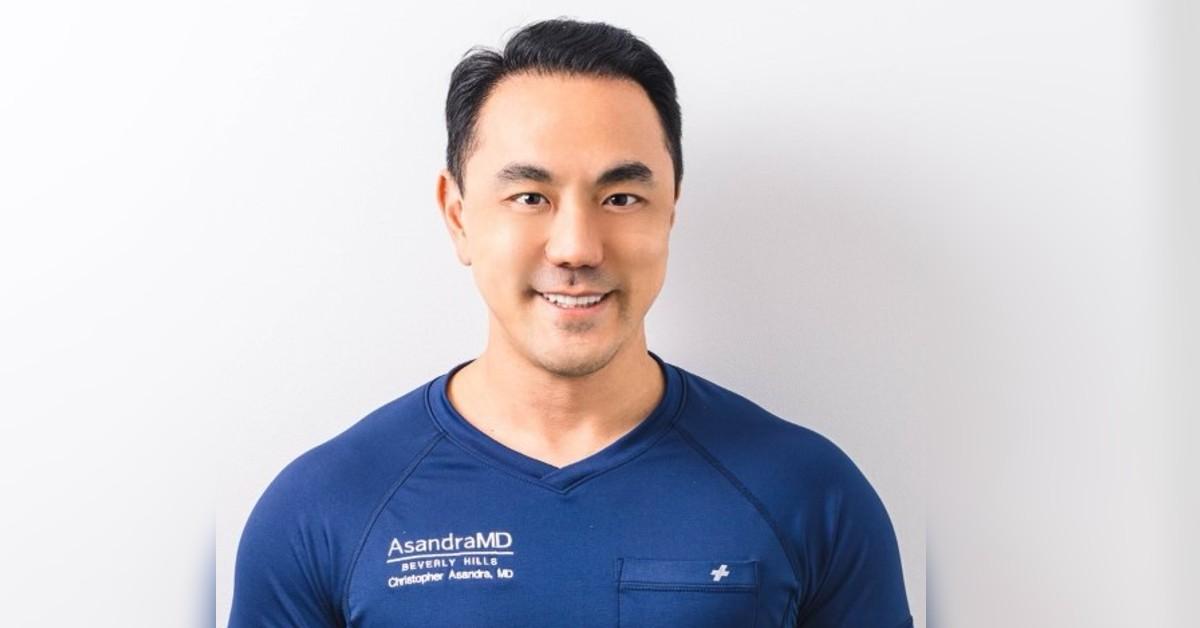 When it comes to anti-aging treatments, people are often overwhelmed by the plethora of information and options available. While knowledge of several solutions and products is readily available online, there's usually conflicting information. You end up with even less clarity than when you started searching for who to listen to. In the end, people only want an anti-aging solution that works. Dr. Christopher Asandra of AsandraMD understands this frustration more than anyone else. More than that, he has put together a series of treatments and therapies that have earned him recognition as one of the world's most sought-after anti-aging physicians and vitality experts.
Article continues below advertisement
Dr. Asandra is a board-certified doctor specializing in anti-aging regenerative medicine. He completed his medical program in Kansas City. He then joined the University of Illinois at the Chicago College of Medicine, where he did his trauma and emergency medicine residency. The 12 years he spent in emergency medicine prompted his interest in healing. As an ER doctor, he saw various healthcare issues where patients would come in with a long list of medications. This triggered him and made him realize there must be a way to prevent sickness instead of giving multiple medications to patients for illnesses they already have. As a whole, working in the ER made Dr. Asandra realize how unhealthy we are, not just as Americans but the world in general, prompting him to want to uncover an approach to help and change lives without medication. Dr. Asandra decided to pursue a fellowship in anti-aging regenerative medicine as he came to believe that hormones are the future and what the future of medicine should look like. He started his first clinic in Wisconsin in early 2013, focusing on women's and men's health and hormone replacement therapy. From there, his practice began to grow fast. Within about two years, he expanded his practice to 2 clinics, realizing a significant need for more advanced anti-aging therapies.
Now the go-to anti-aging doctor for celebrities and former and current athletes, Dr. Asandra has one practice in Beverly Hills and a newly opened clinic in Newport Beach. The success of the Beverly Hills clinic and the demand he received from the Orange County area prompted Dr. Asandra to open the Newport Beach clinic. As a premier anti-aging clinic, AsandraMD focuses on health, wellness, and hormone therapy to revitalize and rejuvenate, tailored to each patient's needs. They are also regarded as a premier clinic not only because of how well they treat their patients and their bedside manner but also for the care and services they provide at AsandraMD. As a cash-based practice, Dr. Asandra is very involved with patient care and can spend quality time with his patients and follow up with them to address their needs. As every patient and body is different, the medicine they practice has to be tailored to each individual.
There is a considerable gap that over-the-counter anti-aging treatments won't address, invasive surgeries don't always provide the best results, and anti-aging products aren't all made the same. Dr. Asandra addresses those gaps with his array of non-surgical programs. Dr. Asandra's clinics treat women going through menopause and men getting older through
hormone replacement therapy. By doing so, Dr. Asandra gives people the ability to have a better quality of life.
Article continues below advertisement
With his hormone replacement therapy program, in particular, Dr. Asandra explains that aging affects people in vastly different ways, and just the same, there has to be an individualized approach to the forces that mature them. This is why programs such as hormonal replacement therapy are gaining clients' attention worldwide, as it is the perfect boost your body needs to support its natural capabilities. Of course, the success of such a treatment is in the implementation of the unique protocols surrounding a patient's needs. With this, Dr. Asandra flourishes. He combines his in-depth knowledge and skills with warmth and an understanding of his patient's needs while implementing a unique treatment plan specific to the patient's symptoms and strengths. "This is a long-term endeavor," Dr. Asandra says, and the good doctor carefully monitors each treatment plan.
One might ask, "What is the hope in going through such an advanced treatment plan?" The answer to that is increased vitality. Depending on the tailored plan a patient goes through, they may experience more energy and stamina, improved mental clarity and focus, lean muscle and less stored fat, and even better hair and skin, among other results.
Peptide therapy is another innovative treatment Dr. Asandra offers in his clinics. Peptides are short-chain amino acids found naturally in the body that perform vital functions such as aiding metabolism and fat breakdown. Peptide therapy directs other cells on what to do by replacing or mimicking the functions of naturally occurring peptides. And with a protocol of FDA-approved peptide medications, Dr. Asandra helps his patients slow down the aging process by improving lean muscle mass, accelerating angiogenic repair, improving sleep, and strengthening the cardiovascular system.
Dr. Asandra has seen how he has benefited his patients and their health as the types of treatments he uses to become more mainstream. He also takes pride in educating the public and other healthcare providers and physicians about these treatments. One can surmise that toxic drugs and invasive surgeries are genuinely out of the question when looking through the services Dr. Asandra and his team of doctors offer at AsandraMD. With treatments such as hormone replacement and autologous conditioned plasma therapy (ACP) that assist the body in tapping into its naturally occurring healing materials, regeneration is achieved and sustained for the long term.
Article continues below advertisement
Dr. Asandra also firmly believes that if you want to look better and live a longer, better life, exercising and hormone replacements rather than drugs like cholesterol medication are the way to go. This may be controversial and go against what many other physicians believe. Still, Dr. Asandra says it boils down to having a healthy lifestyle, taking care of yourself, taking the right vitamins, and getting fresh air versus all the other pharmaceutical interventions. When asked what advice he'd give himself if he could start again, Dr. Asandra mentions compassion. This is the same advice he'd give other experts in the anti-aging industry. "Talk to your patients, and hear them out. Be compassionate and empathetic." This advice proves helpful for someone to demystify hormone therapy and educate people on cutting-edge
regenerative treatments. "My goal is to stop seeing people suffer," says Dr. Asandra. With his skills and persistence, Dr. Asandra contributes daily to that cause.
With his second clinic fully operational, Dr. Asandra wants to see more global openings. In the future, he would also like to focus on teaching other doctors and healthcare providers about his treatments and position in his practice of medicine. Dr. Asandra believes his methods will be the future and revolutionize medicine.
When you go through AsandraMD's website, you'll find one word that you might think is an unexpected descriptor of Dr. Asandra's treatments. That word is happiness. Part of his service page reads, "Health is the greatest gift that Dr. Asandra hopes to give his patients. Happiness is a welcome side-effect." A side-effect as it is described, but in the end, that is the ultimate goal.
Follow Dr. Asandra Here: Dr. Asandra Instagram